Puerto Montt
Chile
Puerto Montt is the Southern most city on the mainland of Chile before the country begins to break up into islands, making it a strategic stopping point for tourists and fishermen alike. The city is a mix of rundown shops and brand new shopping malls. The city council has started to invest in improving what it has to offer though there is still a long way to go. Puerto Montt is said to be the fastest growing city in Southern Chile where its economy is based primarily on agriculture and fishing, especially salmon.
Seemingly contradicting this statement, I found it curious that many shops were up for rent or for sale in the downtown center. It may have something to do with the recent downturn in the salmon industry but also with people moving into the new 'twin towers' and other new buildings / malls that have recently appeared.
A new walkway has been built which runs along the waterfront (parallel to Avda. Diego Portales) where you can take a stroll from the new mall at one end of the city all the way down to near the bus terminal. It is a great stroll with fantastic views over the water. You may even see one of the huge cruise ships in the harbour that uses Puerto Montt as one of its stops.
Most places are in walking distance though should you need to take a taxi, it will cost $500 + $150 per 200 meters (May 2008). You can walk to Angelmó from the city center (takes between 30-40 minutes) and get a Colectivo (shared taxi) back with costs $400 (October 2011). I wouldn't recommend walking to or from Angelmó as it starts to get dark though.
The city council has a tourist information office at one corner of the main square.
Open: Monday - Friday 8am-1pm then 3pm-6pm, Saturday 10am-2pm, Sunday closed.
You will notice that the city virtually closes down for a couple of hours for lunch between 1pm and 3pm.
Safety
We were told that after dark the city center is generally unsafe and having walked it ourselves, you could feel a little wary about what was happening around you. Even the young girl at the city council's tourism office commented that the night before she saw a local getting mugged just after 6pm (the sun had just set), even when the local city maps state that there are vigilance cameras installed in the center. Despite this we still walked around many of the streets at night without a problem (though still feeling a little uneasy). It felt similar to walking around Santiago's downtown pedestrian street Ahumada after 10pm.
What to Do and See
Something that we found curious is that whenever we asked people what we could do in Puerto Montt, everyone would tell us to go to Puerto Varas, a touristy town on a lake about 20 minutes from the city. It's like they themselves couldn't think of anything to do locally. Luckily some would mention Angelmó which is at one end of the city near the port.
Angelmó: The street on the way to Angelmó is crammed with stalls selling traditional Chilean handicraft and products. Many of the souvenirs available are made of Alerce (a tree that only grows in the lake region of the south of Chile between Valdivia and Chiloé).
If you wander a bit further down the road you will find the fish markets and the restaurants. Angelmó is a seafood extravaganza with a large variety of fresh fish and seafood that you can see being taken out of small boats just meters from where you can eat them.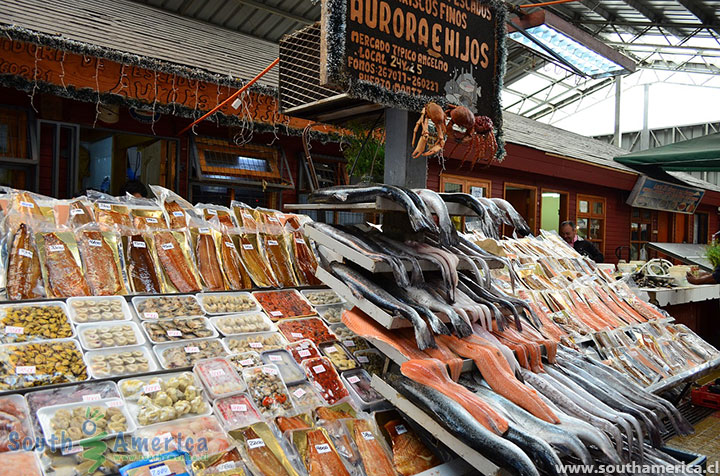 Pueblito Melipulli: Just along from the bus station you will find this artisan market selling handicraft, souvenirs and typical Chilean food. Pueblito Melipulli Information and Photos
Isla Tenglo: If not for the island itself, going there in a small fisherman's boat is a memorable experience. There is an old world feel as you arrive on the island which is home to many fishermen and their families who have lived there for generations. From the island there are beautiful views of the city of Puerto Montt as well as the Osorno, Calbuco and Puntiagudo volcanoes. The large religious cross that you can see from most of Puerto Montt (built in 1983) is at the top of the east end of this island. Pope John Paul II held mass here in 1987. You can walk up to it via a dirt road if you want. Another alternative is to catch a boat from Angelmó that does a trip around the whole island (takes about an hour).
Monte Verde Museum: This is the museum that contains finds from the Monte Verde archaeological site around 35km South-East of Puerto Montt. The site is novel by that fact that it outdates any other human settlement on the continent, including the famous Clovis site in Mexico. Dating 12,500 years ago it was funnily only discovered in 1977 by a vet student that found a funny / strange cow bone at the site that turned out to be a Mastodon.
Address: Luis A. Mansilla 173 (Corner of Manuel Montt Street)
Phone: (56-65) 292929
Pelluco: This is the happening place to be at night which can be found 4km to the east of the city center. You can find a variety of pubs and clubs to go drinking and dancing though there isn't much to see during the day other than the beach (which is packed in Summer).
Shopping Malls: There are two main malls in the city that are relatively new. One is at the top of a pedestrian street called Talca. This street has a variety of stands selling different types of goodies as well as the odd person selling their wares on a sheet on the ground (when the cops aren't around). This small street which is only two blocks long can be interesting at times with different singers / music groups playing, some clowns / mimes performing and even a llama you can get your photo taken with (at a price of course). The other shopping mall is under two towers (and a hotel) that have recently been built down on the waterfront at the end of the walkway. I didn't see much difference between the two in what they have to offer though the latter is just a little bigger in size.
Where to Stay
The city has no limit of low end accommodation throughout the city. It is important to note that hostels in Puerto Montt are affordable, but many times definitely not luxurious.
HOTELS
Hotel Club Presidente: We were fortunate enough to stay at the Hotel Club Presidente which is very centrally located on the waterfront. The views of the harbour and the rest of the city from the swimming pool on the top floor are fantastic. Alicia, the operations manager was very hands on with everything. She had loads of useful information and could often be found talking and helping guests. We definitely recommend this hotel. The ladies in reception even remembered me 6 months later!
Avda. Diego Portales 664, Puerto Montt
Phone: (56-65) 25 16 66
You can find more information about it here: Hotel Club Presidente Puerto Montt.
Holiday Inn Express: Situated about the new shopping mall with its own entrance into it (access by door key card), this hotel has great views of the harbour and the city. Something that surprised us were how wide (and empty) the hallways are. They charge the same room rate whether there is one adult or two adults with two children (under 18).
HOSTELS
Tren del Sur: This is not your normal hostel, it's more like a small boutique hotel with a lot of character thrown in there. Built over what was once a railway warehouse.
Santa Teresa 643, Puerto Montt
Phone: (56-65) 343-939
Where to Eat
If you want a good variety of seafood dishes at decent prices, then Angelmó is the place to do it. As you enter the area, you will find yourself hounded by many ladies in white trying to entice you into visiting their restaurant. The fact is, most of them aren't restaurants but lines of small kitchens with a couple of tables.
There are a couple of streets (Guillermo Gallardo and Rancagua) with a good variety of restaurants about 5 minutes walk north from the main square.
One restaurant we ate at was El Fogón del leñador (Rancagua 245). It seems to be a popular place (it was recommended to us by more than one person) and we had to wait a while for a table (max. capacity 100 people). It was worth the wait as it had great fish and meat dishes served in a cozy atmosphere. It states on the menu that meats take 40 minutes to cook (it was true) which means that it is fresh and cooked right then and there (not reheated). Again, the wait was worth it. The homemade sopaipillas they served as a free entree were absolutely divine and 'more-ish' (you wanted more). They also have some typical Chilean dishes such as Porotos Granados and Pastel de Choclo. Main courses start at $5.000 and desserts $1.800 (May 2008). Drinks are much cheaper than what you'd pay in Santiago.
Open: Monday to Saturday 1pm-3.30pm then 8pm-midnight (Closed Sundays and Public Holidays)
Menu: in both Spanish and English
First floor smoking - Second floor Non-smoking
Haka (Rancagua 196) is named after the NZ rugby team's famous dance before the match. Being a Kiwi (New Zealander) myself, I expected some memorabilia from back home or to do with rugby but there was none of the sort. Still, the set up of the pub was very well done. It has dishes that aren't cheap though crammed pack full of goodies. It was one of the few pubs that had a good party-hard feel.
Internet
The Puerto Montt city council has organised free WIFI in the city. If you have a laptop you can enter the world of internet without a password. Just how extensive it is I am not sure but we could pick up the signal down from the room where we were staying which was half way between downtown and the bus terminal. I did notice that we couldn't enter some sites due to a filter the council had. It only happened once to a dot.org site I was trying to enter where a page appears deeming it as 'adult content' when in fact it wasn't.
If you don't have your laptop, there are a few internet cafes to choose from the charge around $500 per hour (May 2008). One cybercafé you can try is:
Ciberexpress on Guillermo Gallardo 114 (Phone 259-545)
Getting There and Away
BY BUS
The main bus terminal of Puerto Montt is at the end of the walkway on the waterfront, about a 10 minute walk from the tourist information center on the main plaza. Currently it is a mix and match of mayhem though we were told they will be revamping the whole terminal sometime soon (though it wasn't specified whether it would be a couple of months or a couple of years). The different bus lines all have their own little 'counters' with their destinations usually shown in the window. Not many have their prices on display though so you will have to ask around for the best deals.
To Puerto Varas: Only 20 minutes from Puerto Montt, you don't actually need to get a ticket beforehand. At the back of the bus terminal to the left you will find lines of mini buses that have Puerto Varas in the window. They leave every 5 to 10 minutes and you just pay the driver as you jump on. (Cost $700 May 2008)
To Chiloé Island: The buses that leave from the mainland get loaded onto a ferry and get off and continue of the island. The two main destinations are Ancud and Castro. The trip to Ancud takes around 2 hours and costs $3.300 one-way $6.000 return (May 2008). The trip to Castro (which often involves a stopover in Ancud) takes around 3 hours 40 minutes and costs $4.700 one-way $8.500 return (May 2008). These are low season prices so expect them to go up between December and February. Buses go every half hour or so starting at 7.15am with the Cruz del Sur bus company while another company Trans Chiloé is a little cheaper though less frequent.
To Bariloche (Argentina): There are daily buses to Bariloche in Argentina which take around 6 1/2 hours and cost $13.000 (May 2008). This is the low season price so expect it to go up between December and February. Buses tend to leave around 8.15am, 11am and 2pm.
To Temuco, Valdivia, Osorno: These buses leave almost every hour.
To Santiago: (1016km) There are buses that go daily to Santiago, usually divided into the ones that travel during the day and those that go overnight. Both journeys take at least 12 hours, depending on the number of stops the bus makes on the way. We found prices to Santiago as low as $9.000 (May 2008) though of course this was in low season.
BY PLANE
There are daily flights to and from Santiago every day (about 4 or 5 of them). Double check to see whether it is a direct flight or not though since a lot of them have a stopover somewhere. The two main airlines that come this way are LAN Chile and Sky Airlines.
The airport known as El Tepual is around 15km out of the city. You can get a transfer from the airport to the city for $5000 per person or sometimes a deal of $9000 for two (October 2008). On the latest trip I used a transfer company called Transfer ETM (phone 294-294) both to and from the city and the drivers were very friendly. But if there are two of you, it may work out better to get a taxi to the city for the around the same price ($9000). Check the price before you jump in the cab. There isn't much to see on the way into the city.
The airport only has 3 departure gates so you can't get lost. On our flight back (via LAN Chile) we got sent to each gate (that's how I remember) since there was some type of mix-up. We were all lining up at one gate then they announced over the speaker that we had to change. So everyone ran to the next gate to get in line. Then it happened again so we had to run downstairs to the third gate. For some reason their system was down about the seating arrangements so it was a free for all, head down and run to get a decent seat type of arrangement. It was like a bad airport comedy where everyone herds off in a group from one gate to the next and then there is a chaotic run as every bites and claws their way across the airport runway (that's right, we had to literally go across the runway) to get to the plane so that you could get a good seat.
BY FERRY
Puerto Montt is a loading area for the major ferry companies that go down through the islands to the bottom of the continent. Take one of the ferries out to explore the beautiful islands and glaciers that abound in the South of Chile, the scenery is absolutely breathtaking! Ferries should be booked in advance of your travel date and payment will normally be asked for upfront. If you take a ferry or other boat, we recommend that you bring a stash of chocolate, alcohol and other snacks with you. The ferries all have cafes and restaurants abroad, but after a few days you might find yourself tired of the provided meals. It is also a good idea to bring a deck of cards and a friendly personality, as you will find yourself quickly becoming friends with other passengers.
View from the Waterfront
A quick video we took from the waterfront giving you a 360º view from where we were standing.
If you found this guide about Puerto Montt, Chile interesting or useful, let others know about it: