Barandiaran Manuel Montt
Providencia - Santiago - Chile

Are you in Chile and would like to sample some exquisite Peruvian Food without going to Peru? Then the well-known Barandiaran Restaurantes will be a must for you. They serve around 75 different traditional Peruvian dishes as well as el chifa food (a fusion of Peruvian food and Chinese food).
How did it all start?
Marco Barandiaran arrived in Chile in 1992 where he worked as the resident chef of the Peruvian Ambassador in Chile. Later he worked in different restaurants such as El Otro Sitio, La Flor de la Canela and El Cocoa until April 1999 where he started a restaurant in Bellavista. In December 2000 he and his wife Olga opened up the now famous Barandiaran restaurant in Manuel Montt.
In 2003 another Barandiaran was opened in the exclusive Lo Barnechea neighbourhood (Raúl Labbé 13664). In January 2006 Barandiaran at Patio Bellavista was opened and more recently another one has just opened near Plaza Ñuñoa.
Barandiaran has appeared in the press numerous times too being the Gastranomical revelation of the year by Qué Pasa magazine in 1999, wheres as Televisión Nacional de Chile (TVN) said he was the most successful Peruvian immigrant of the decade in their programme "Nuestro Siglo" .
In July 2002 he was distinguished by the Chilean Government as an Honorable Peruvian Resident Citizen.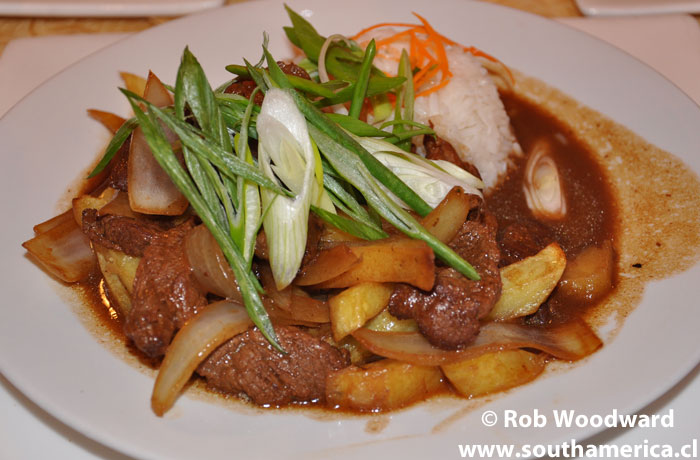 Contact Details
Barandiaran Manuel Montt
Address: Manuel Montt 315, Providencia, Santiago, Chile
Phone: (56-2) 737-0725
Website: www.barandiaran.cl
They also have restaurants in Patio Bellavista, Lo Barnechea and in Plaza Ñunoa.

Our Opinion
We recently visited to celebrate a birthday and had a great time. We were surprised by the extensive menu which is in English, Spanish and Portuguese. They have much more than the 75 dishes they say they have which can make decision making difficult (so many yummy things to choose from). The food was delicious though we have just one word or advice, or more like a warning... the Peruvian Pisco Sours are incredibly strong. The prices are slightly above average though was worth paying that bit more. Yes, we would go back to Barandiaran.
Photos of Barandiaran Manuel Montt
If you found this review of the Barandiaran Restaurant in Manuel Montt useful, share it with others: