Salar de Uyuni
Bolivia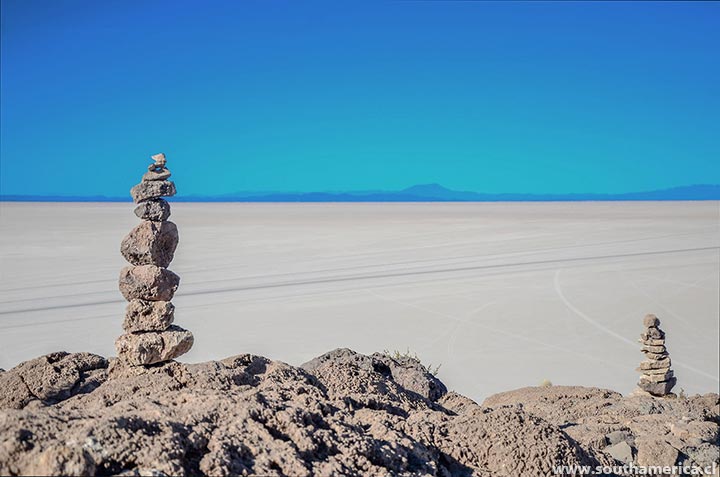 Another hotspot on the backpacker's map is the Salar de Uyuni which is the world's largest salt flat.
Tours of Salar de Uyuni
All the agencies in La Paz offer the same exact itinerary for the tour of the Salar de Uyuni, the only real difference being the price you pay. The price will very easily include a transfer into Chile to San Pedro de Atacama (a common route by many a tourist). You can take the trip directly from La Paz, or go early into the town of Uyuni where there is some decent accommodation. Another option is the night bus from La Paz which arrives early enough so that you will have time to spend the early morning searching for a tour company.
Upon arrival to the different Salt Flats there isn't much else to do but take some weird and wonderful photos. Because there is nothing around you for miles but white flat terrain and salt there is no perspective. Trying lining up different objects at different distances from the camera, or you can be like Jeremy and bust out your flying karate moves. Get creative.... you'll have the time.
Of course the trip will offer food and drinks though tea and coffee are normally extra. Take snacks and a lot of water (enough for three days). Remember to pack lots of warm clothing since the nights are wickedly cold and you will want as many layers on as humanly possible.
The first morning is the best time to buy souvenirs, even though it may not seem like the right opportunity, trust us... this is as good as it gets.
Expect a flat tire or some other minor problem along the way, sometimes even a jeep breaking down for a few hours. This sort of thing just seems to always happen here. Don't get angry, just go with the flow, you never know, it could be a good story in the end. Also, beware of the coca chewing driver who tends to fall asleep at the wheel. A little nudge now and again doesn't hurt.
The beginning of the third day you should have your towel ready... it will be the first time you will experience a hot bath in a long time.
Other Options: There used to be a hotel in the middle of the salt flats. The accommodation was basic and there was no electricity, but the entire building was made out of salt! Of course this also means your bed too, which was covered in loads of blankets. Since that closed due to problems with sanitary waste, there is a new modern (and more expensive) version.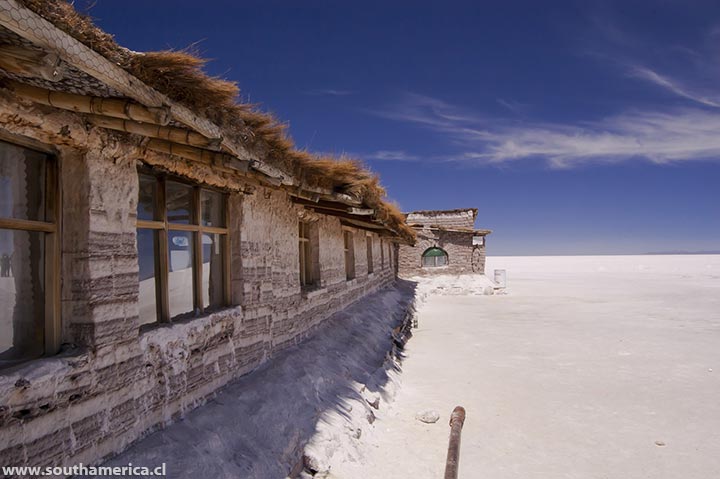 Getting There
There doesn't seem to be a big difference from the regular bus or the tour bus to get from La Paz to the Salt Flats (minus the fact that the regular bus is half the price).
If you found this guide about Salar de Ayuni, Bolivia interesting or useful, let others know about it: