Brazil
South America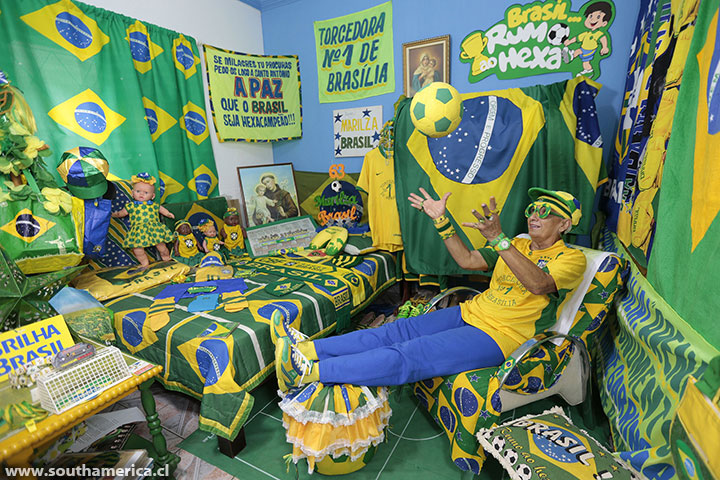 The country, which has a population of over 182 million people, is HUGE. Since it is the largest country in South America and the 5th largest in the world, it can take a long time to get from one part to another. By plane it can take a number of hours but by bus we are talking about days.
The local currency is the Real (which is pronounced like He - Al in English).
Typical Brazilian Drinks - From Caipirinha to the 'Friendly Cashew' drink.
Typical Brazilian Food - From the classic Feijoada Bean stew to typical desserts.
Sao Paulo - The largest city in Brazil and the financial capital.
Catedral da Sé - Sao Paulo's main cathedral.
Rio de Janeiro - Beaches, Carnival & Sugarloaf Mountain with the Statue of Christ on top.
Foz do Iguaçu - The closest Brazilian city to the incredible Iguazú Falls (where it gets its name from)
Brazilian National Anthem - with its translation in English.
The Language
The official language is Portuguese which a little different from that spoken in Portugal. You will find that if you know Spanish, Brazilians will generally be able to understand you, though you will generally have no idea about what they are saying. When Portuguese is written, you will see many similarities to Spanish though spoken it is very different.
The People
Brazilians are generally friendly, warm and happy people. Above all they are free spirited and resent being told what to do. Brazilians are outgoing and love to be around people. The hot climate allows them to be outdoors, often just chatting with friends. Brazilians can be very opinionated, and the vigor with which they argue their convictions often leads foreigners to believe that they are angry. Visitors should not be offended by such behaviour. Overall they appear to have an extremely casual attitude!
Food & Drink
A great thing we found about Brazil is that you can find places that sell food by kilo. It's like a buffet where you choose what you would like to eat, pile it onto your plate which is then weighed to see how much it costs. More information at Typical Brazilian Food.
You will also be amazed by the variety of fruit (and vegetables) than you will encounter here.
Remember that you can't leave Brazil without having a Caipirinha. Find more drinks at Typical Brazilian Drinks.
Main Cities
The capital of Brazil is Brasilia, a city that was designed specifically to be the capital only last century.
Rio de Janeiro is named for the Portuguese word meaning "river of January", though this resort is better known for it's tropical beaches. Rio de Janeiro is home to the popular retreats Copacabana and Ipanema (you know, the names in those old songs). It is also home to the "Christ the Redeemer" statue, a replica of Jesus on the huge hill that overlooks the city. Rio thrives on dance, drink, beach, sport and sun. It is also famously known for its carnival where an elaborate parade is staged by the city's major samba schools in the Sambadrome making it one of the world's mayor tourist attractions.
Sao Paulo is the financial heart of Brazil and the largest city in Brazil. There is a strong rivalry between this city and Rio de Janeiro.
If you found this guide about Brazil interesting or useful, let others know about it: