Uruguay
South America
Montevideo - Capital of Uruguay.
Colonia del Sacramento - A UNESCO World Heritage site.
Colonia - Calle de los Suspiros - The famous 'Street of Sighs' in Colonia del Sacramento.
Colonia - The Lighthouse - Built in 1857 over the ruins of the San Francisco convent, you can climb to the top for a great view.
Typical Food of Uruguay - Typical Uruguayan dishes, meals and desserts
Driving in Uruguay - What you need to know when driving or bringing your car into Uruguay.
National Anthem - With its translation in English.
One of the most stunning characteristics of Uruguay, which you will notice right away, is the lack of indigenous people. Uruguay is the only country in South America without Amerindians. The population is heavily influenced by Europe. The people, the culture, food, and architecture are a reflection of Spain, Portugal, Italy, France, England etc. Thus Uruguay is truly a melting a pot of cultures.
Many of the larger cities in the country are located near the borders, including the capital Montevideo and the city of Colonia del Sacramento which are only a short ferry ride away from Argentina's capital, Buenos Aires.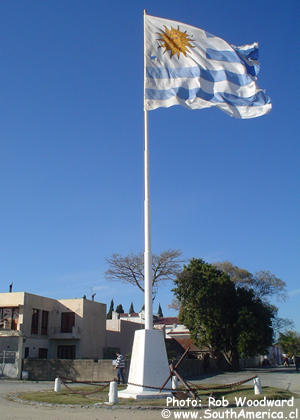 Although they are heavily dependent on international trade and susceptible to fluxes in the market, they have remained a stable country. They are mainly agricultural producers, and while they lack industry, they have begun to market their products as natural, namely the grass fed beef, which is now been sold as a high quality product around the world. It is this tradition in the life of the estancias that is also the base for much of their tourism now. Tourists come to celebrate the gaucho (local cowboy) culture and devour the delicious asados or barbecues that Uruguay is famous for.
While here, you should be sure to try the national drink called Grappamil. It is a mixture of alcohol and honey and is served warm, often drunk on cold winter mornings. Or there is also the traditional yerba mate, a sort of tea that is also popular in Argentina and is served with boiling water and a straw with filter.
Uruguay is an easy country to access once you are in South America, although there are few direct international flights from elsewhere (just from the US and Europe).
Check out how to take the ferry from Buenos Aires to Colonia del Sacramento.
If you found this guide about Uruguay, South America interesting or useful, let others know about it: