Buenos Aires
Argentina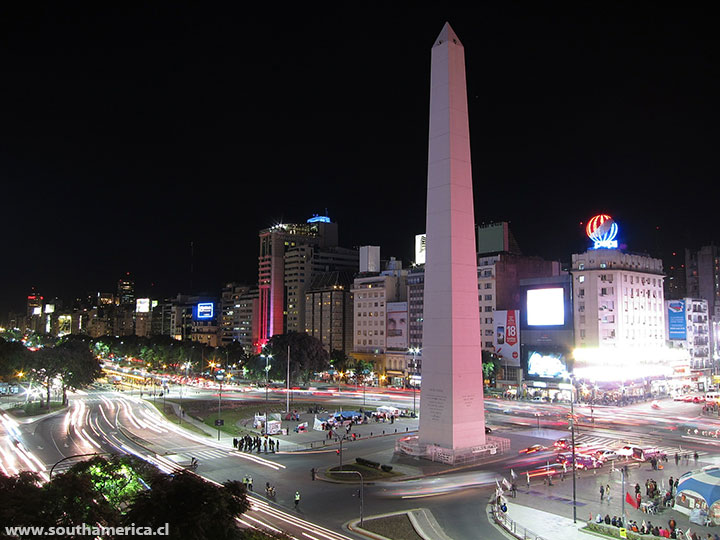 Buenos Aires is a fascinating city with over 16 million people and there is a vast amount of things to see and do in this sprawling capital.
What to Do in Buenos Aires
Plaza San Telmo
The area is full on the weekends with tango shows, trade bazaars, local bands and performers. It is a fantastic place to explore and take in the local culture. We recommend going early and chatting with the artists who have their work on display while sipping on a cup of mate. Be careful with your cameras and other personal belongings. Even President Bush's daughter with all of her bodyguards had her purse stolen while eating in a café (hehehe). Be sure to go on a Sunday to take it all in when everything is in motion. On the surrounding streets you will find many antique stores.
La Boca
La Boca is famous for Caminito, its brightly colored neighborhood near the port. You can take lots of pictures and watch a tango show here as you bump into many other tourists trying to do the same. Since it is a major tourist attraction, you will find many souvenir shops with varying prices. It pays to shop around first. Be careful not to stray into surrounding streets. Oh, you may also want to visit the Boca Juniors Football stadium while you're in the area.
Teatro Colón
The ceiling is incredibly high, with seven levels of seats, the top cheaper seats are referred to as "the chicken seats". The roundness of the building makes it one of the best places in the world for singers and musicians to perform. We highly recommend the tour, which is full of all kinds of fun anecdotes about the history of the building and some of its most famous entertainers. (Tours in English and Spanish). While the outside of the building is nice, you should be careful not to get a crick in your neck while gazing at all of the beautiful decorations and architecture inside. (Steve recommends this)
La Casa Rosada
The Casa Rosada, literally translated as 'The Pink House', is the official Government House or Presidential Palace. It was painted pink to show the unity of two historical parties whose colors were red and white. It is situated with its back to the water, facing the Plaza de Mayo. While most tourists are content to take a photo from the outside, we recommend that you take the time to take the tour inside. There is a small museum located on the right side of the building where you can buy the tickets and look at a few of Evita's dresses as well as other presidential artifacts. The tours are offered in Spanish and English and are worth it mainly for the opportunity to stand out on the front balcony and pretend that you are Perón, addressing the people. (Or like Madonna in the film Evita)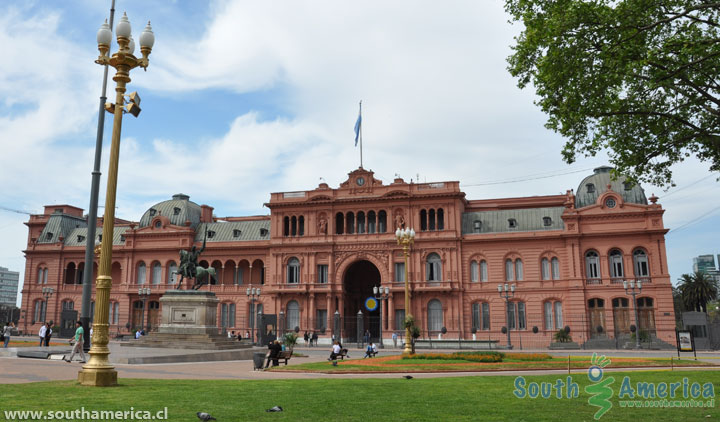 Recoleta Neighborhood
Everyone ends up at Recoleta Cemetery. When you arrive it is incredibly important that you ask for a map! More than just a cemetery, it is a miniature ancient city of mausoleums. Once sufficiently lost follow the crowds to the burial sight of Evita. You will find guides carrying flags and trailing groups of 30 or 40 people. (Evita's husband, President Perón is buried in a separate cemetery). There is a church next to the cemetery which contains the Claustros del Pilar, old cloisters which are now a museum.
Restaurants in the area cater to the tourist crowd and are often overpriced but nice and with waiters who speak very good English.
Down on Av. del Libertador you will find the gigante Steel Flower - Floralis Generica. This 23 meter high, 18 tonne steel flower is one of the latest icons of Buenos Aires. What makes it so interesting is that its giant petals open and close much like a real flower depending on the time of day.
Palermo Neighborhood
Some of the things you will find in this beautiful neighbourhood are the:
Parque Tres de Febrero - a large park with lakes, boat rides, beautiful bridges and rose garden.
Botanical Gardens - a true oasis in the middle of chaotic city.
Japanese Garden - with original species from Japan (and a Japanese restaurant)
Buenos Aires Zoo - Over 350 species and century-old buildings.
The best place to start a visit to Palmero is by getting off at the Plaza Italia subte (subway) station.
Tours
You might want to check out the Free Tours of Buenos Aires. There is one of downtown Buenos Aires as well as another of the Recoleta area.
Tango Shows
Most of the best tango shows are in the San Telmo area and reservations should be booked for most of them. The sooner you book the better your vantage point. Walk down Balcarce street and you will find a whole row of them to choose from. There are many arranged tours to see them though we found that if you go to the Tango place directly it will cost you a lot less, even half the price sometimes.
The oldest and most traditional Tango show is at Café Tortoni. It only holds about 30 people at any one time and since it is so personal, you are right next to the stage. Reservations are a must and you can find it at Avenida de Mayo 825. (Rob recommends this)
Shopping
Calle Florida is the place to go if you are looking for things to buy during your visit. It is a pedestrian street lined with all types of stores. As the economy recovers and the peso becomes stronger there are less deals to be had, but you can still purchase some really beautiful leather jackets if you are willing to put up with the haggling and pushy vendors. You may want to visit the Galería Pacífico Shopping mall on Calle Florida (photo below).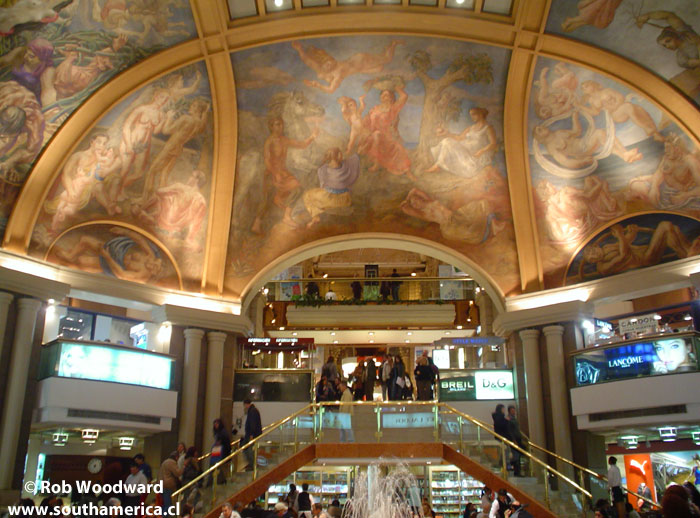 Where to Stay
Hostel Portal del Sol: The rooms are all around the central atrium where the complimentary breakfast is served and travellers hang out in the evening swapping stories before a night on the town. There is a great old elevator and the rooms and bathrooms are clean and simple. There is free internet and shared kitchen access. Some of the rooms are occupied by long term guests. It offers free tango lessons once a week.
Hostel Estoril: Between Congress and the Main avenue, this hostel is conveniently located. The hostel has a friendly vibe to it and since it is highly recommended by many parts, it quickly fills up. Make sure you book in advance! (Rob and Ange stayed here a couple of nights and recommend it)
What to Eat
You can't go wrong in Buenos Aires ordering a steak and a glass of red wine, no matter where you go. Eating here is a long process filled with several courses, glasses of wine, and a good conversation.
Argentina is well known for being a café society. Everywhere you go there are tons of people chatting in the outdoor cafés, or with their special mate. Be sure wherever you go that you get a good seat with a nice view to take it all in.
Siga la Vaca: A well known and very popular place where you pay a set price to eat as much as you like. There is a salad (and other delicacies) buffet and a large BBQ grill where a chef serves you your choice from a huge variety of meats. It's almost always busy so you might want to make a reservation. It's a great place to go with a group of friends. Rob personally recommends this restaurant. Av. Alicia M. de Justo 1768 - Puerto Madero Phone: 4315-6801
El Ceíbal: Filling your belly without emptying your wallet is easy at this restaurant that specializes in empanadas, locro and humitas. Two locations, one at Güemes 3402 and the other at Cabildo 1421.
La Estancia: For a a nice big steak done in the classic style. (Lavalle 941)
Restaurant Dora: A steakhouse with style, it also serves some pretty good seafood dishes. (L Alem 1016)
Where to Dance
Dancing in Buenos Aires is unlike dancing anywhere else in the world. Be prepared that if you do decided to go out late at night that you don't make too many early morning plans, because chances are you won't make it back to the hostel until 8 in the morning. Argentinean night clubs start really late as in if you are there before midnight or even 1am, you'll find that you'll be the only one there if in fact the place is open in the first place at that hour. Ask around in your hostel for the best places in fashion at the moment and be sure to go in a group.
To and From Buenos Aires
The main international airport is Aeropuerto Internacional de Ezeiza "Ministro Pistarini". Though everyone calls it the Ezeiza International Airport, even on the street signs. It is 22km from the center of the city and you can easily get a transfer once you get through customs near the tourist information stand. You are best to book it there from one of the many companies since there are many stories of taxi drivers taking you downtown then when you get out of the cab, they run off with your luggage in the back.
Buenos Aires to Uruguay
If you are interested in going to Uruguay across the river (more like the sea), then you should check out our Buquebus ferry page (with photos) about getting from Buenos Aires to Uruguay (Colonia del Sacramento or Montevideo).
If possible avoid taking the train from Buenos Aires to anywhere else. The train station at Constitución can be dangerous.
If you found this guide about Buenos Aires, Argentina interesting or useful, let others know about it: