Typical Food of Argentina
Argentina
Argentina is highly influenced by Europe, and reflects this in its cuisine. In general you will find that the food here is generally a variation of Mediterranean cooking, with a large emphasis on the products that are easily grown in the area, namely beef cattle and wheat.
Some of the world's best beef comes from Argentina. The country is famous for its grass fed cattle and the gauchos who work the open range raising these animals. The meat is normally eaten with very little seasoning, using only salt to bring out the flavor of the beef. All parts of the cow are eaten, nothing going to waste. The most traditional way to eat meat in Argentina is the asado, or barbecue. Beef however is not the only meat here. It is common to have an entire body of a lamb cooked over the outdoor camp fire.
Chorizo: A spicy sausage usually made from pork. A barbecue without chorizo to begin with is not a barbecue in Argentina. Blood sausages are also common.
Empanadas: Small pies filled with all types of filling, although ham, cheese and meat are the most popular. It is best to ask how big they are before ordering since in general Argentinean empanadas are smaller than those of other countries so that eating 6 or 7 in one sitting is not unheard of. During the week before Easter special empanadas are filled with tuna or cod.
Milanesas: Thin breaded meat, similar to a German schnitzel. Often served in sandwich form at fast food restaurants. It is a common lunch time meal.
Pizza: It is made with thick dough, unlike that found in Italy. Everywhere you go in Argentina there is pizza from the most elegant restaurants to street vendors. You can even buy it by the meter!
Fogaza: similar to Italian focaccia, but often served with cheese. Delicious!
Pasta Pasta Pasta: Argentineans eat enormous amounts of pasta, which is normally served with a large amount of sauce. Pesto, Cream and Red Meat sauces are the most common, although some of the nicer restaurants tend to experiment with newer versions.
Provaleta: A large amount of fried melted cheese served with a lot of oregano. Yum!
Fish: Although Argentina has a large coastline, fish is not a very large part of the diet.
Desserts & Sweet Things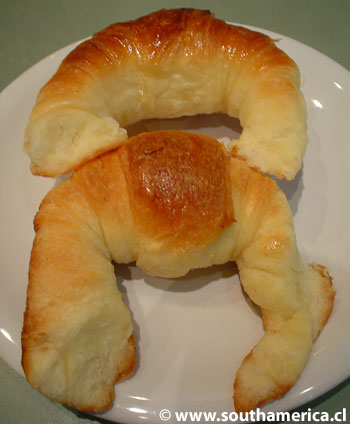 Dulce de leche: This is made from boiling condensed milk until it becomes a thick caramel paste. To say that is a favorite among Argentineans would be a huge understatement. It is eaten at almost every meal of the day and for snacks in between. One of the favorite preparations is with alfajores, two short bread cookies with dulce de leche in the middle and dipped in chocolate. We have no idea how they haven't all died from sugar shock.
Medialunas: Croissants coated in a sweet glaze and often eaten at breakfast time.
Ice cream: One of the greatest parts about the Italian influence is the rich gelato that is all over Argentina. Tourists will be happy to know that the flavors has less fat than traditional American ice cream, so you can guiltlessly taste your way through the country!
Chocolate: Although it isn't of Swiss or Belgian quality, there is some very good chocolate produced in Argentina. The ski town of Bariloche produces some of the best. The entire town is filled with chocolate shops. Blissful!
We have only just started this page and we know we are missing a lot so if you have any food that is typical of Argentina that we haven't put up yet, please let us know.
If you would like to learn more about different typical drinks of Argentina read our Argentina Drink Guide.
If you found this Argentinian Food Guide interesting or useful, let others know about it: