Huilquilemu Museum
Chile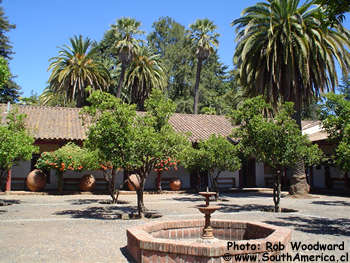 The old colonial house of Huilquilemu is one of the region's best conserved example of colonial architecture dating back to 1850.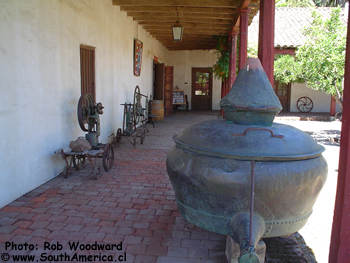 Originally this house belonged to Don Bruno González who had property that stretched all the way from Talca to the border of Argentina (That's a large chunk of land!).
Eventually when his son inherited the house, it got sacked and the land taken over by others since he was based most of his life in Santiago without much control (or interest) in his land further down south.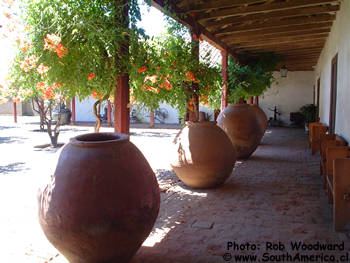 This old colonial house has adobe walls and you can see the tiled roof typical of the zone from the inside with the wooden rafters visibly holding them up. The house revolves around two large courtyards, the first with its surrounding rooms was originally for guests where as the second patio behind it was for the family.
Almost everything that is in the house today is not original though each room has its own restored flavour with either something religious or dating back to the colonial age. Today the property is administered by the Universidad Católica del Maule (University).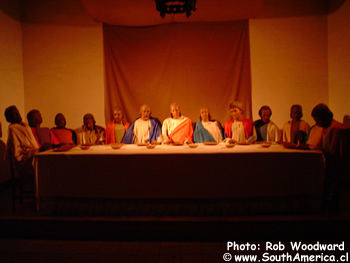 Two of the rooms contain examples of religious handicraft from Chile and other parts of the continent.
One of the rooms contains a life-size scene of the Last Supper with each disciple carefully carved out of wood and another one contains yet another life-size representation of when the Virgin Mary spoke with the Angel Gabriel.
There is a nice garden on the east side of the house which is good to stroll around. It doesn't have many flowers but trees that have been imported and now fully grown (I even found one from New Zealand).
To the west of the house we saw some stands that were supposed to be selling handicrafts, souvenirs or something though were empty when we visited.
At the front of the house, just to the left as you enter, you will find the Maule Valley Wine Route office (Ruta del Vino del Valle del Maule) where you can book wine tours and do some tasting before heading off to the vineyards.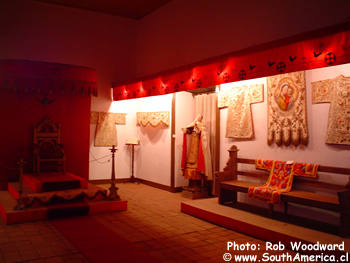 How to get there?
Huilquilemu is 10km to the east of Talca on the road to San Clemente.
You can take a bus that goes to San Clemente at the Rodoviario (Bus Station). The Huilquilemu Museum, about the only thing in the village is on the right on the way to San Clemente. After going across the main highway (Ruta 5), keep an eye out for the new-ish shopping mall on the left, then the University (also on the left) and then you will come across Huilquilemu on the right about 5 minutes later.
If you are coming by car from Santiago, take the second Talca exit and head left 7km towards the mountains.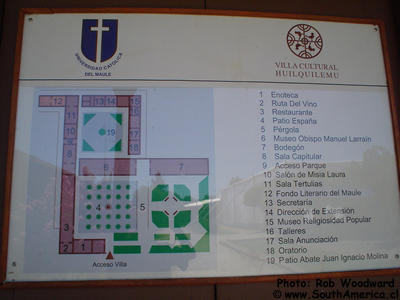 Video of Huilquilemu
If you found this guide about Huilquilemu, Chile interesting or useful, let others know about it: