Pomaire
Chile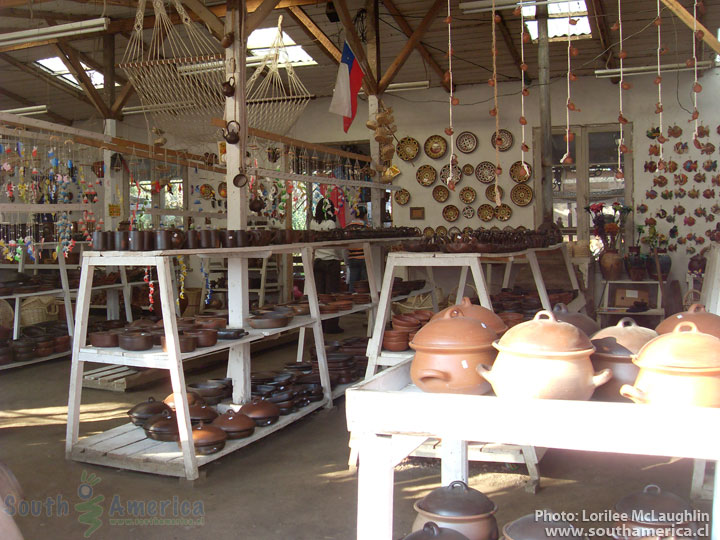 Pomaire is a small dusty village about 60km west of Santiago. What makes it such a popular destination? Pomaire's shops are overflowing with ceramic pottery in the form of vases, plates, pots and almost anything you can (and can't) imagine at very reasonable prices.
If you have ever eaten at any restaurant in Chile, I can almost say for certain that at least one of the pots or dishes that appeared during the course of the meal, would have been made in Pomaire. It's unconceivable to imagine eating Pastel de Choclo (Corn Cake) in anything other than an earthenware bowl from Pomaire.
History of Pomaire
Pomaire owes its name to Curaca Pomaire who arrived to flat fertile land, a little to the north of where Pomaire is situated today, with a group of indigenous people in 1482. In 1583, due to the growth of its population, the tribe moved to Pomaire's current position which is surrounded by hills that were a source for the clay they needed for their pottery.
Domingo Pomaire, who was born in 1690, was the first indigenous person to be baptized in the region. His son, Tomás Pomaire, was the first governor of the area between 1742 and 1745 and since then, Pomaire remained as the town's name.
From the middle of the 19th century, Juan Bautista Salinas and his wife Remigia Castro Montana began to motivate the local inhabitants to produce more pottery so that it could be sold later at El Cardonal market in Valparaíso. From 1853, a caravan of carts filled with pottery would regularly travel to Valparaiso just before Christmas to sell their wares and from there, continue on to the Virgen de Lo Vásquez Sanctuary for the local religious celebrations at that time.
During the rest of the year, the local potters would often visit neighbouring landowners and farm workers to exchange pottery for food.
The artisans have conserved the tradition of working with clay using basically the same techniques that have been passed down from generation to generation.
In 1982, the first Chilean soap opera filmed in colour (called 'La Madrastra' or The Stepmother) used Pomaire as a backdrop. It was about a Chilean that was stranded overseas and who had to make pottery in order to save enough money to return home (to Pomaire).
More recently, Pomaire has been producing a lot of dried plants and flowers, often quite colourful, as a compliment to the pottery.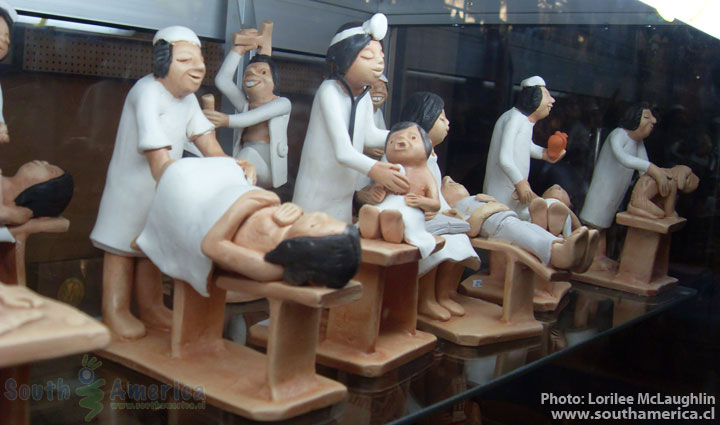 How to Get There
Pomaire is 60km west of Santiago and 7km east of Melipilla.
The buses to Melipilla leave Santiago every ten minutes and cost about $1400 pesos one way (April 2015). From Melipilla you can take a 'colectivo' (a local shared taxi with a fixed route and fare) to Pomaire or you can take one of the buses that frequently go there.
There are also direct buses that are less frequent that can be taken from Terminal San Borja Bus Station (metro Estacion Central) for $1400 pesos (April 2015).
If you have you own car, you can take the 'Autopista del Sol' which is the relatively new highway between Santiago and San Antonio. Also known as Route 78, you will need to travel along it for about 57km and then get off at the signposted exit for Pomaire. You will have to pay a small toll of about $1200 pesos once you get off the highway to enter Pomaire. Once through the toll gates you should turn right at the intersection and Pomaire will be about 2km away.
An alternative route, without having to pay the highway tolls, is to take the old Santiago-Melipilla road known as 'Camino a Melipilla'. It gets a little bumpy in places but it's a lot of fun as you stumble across many little towns along the way such as Talagante and El Monte.
Try to visit Pomaire during the week (except Mondays when it's pretty much closed) as the weekends are normally crowded with visitors from Santiago.
Every May the town celebrates 'la semana Pomairina' or the Pomairian Week which marks the beginning of Chicha production.
Pomaire is also famous for its empanadas that weigh 1/2 KILO!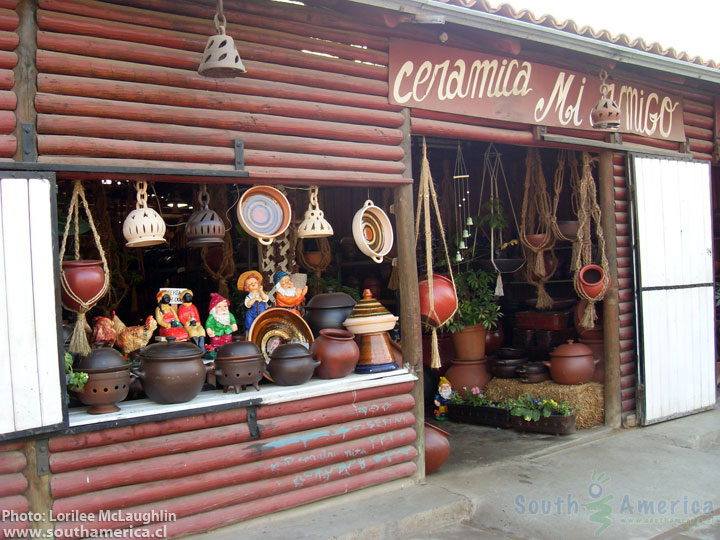 More photos of Pomaire and its pottery
If you found this guide about Pomaire, Chile interesting or useful, let others know about it: