Pucón
Chile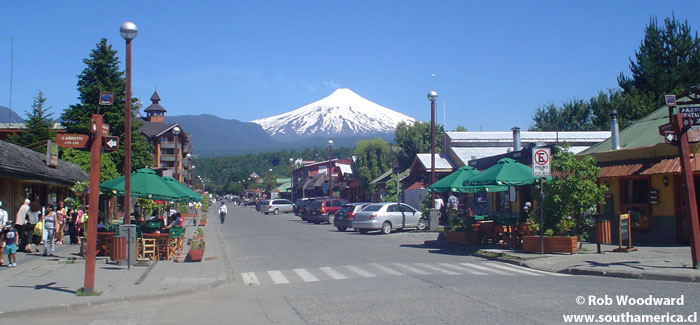 Pucón is a beautiful town nestled beside Lake Villarrica and is dominated by the smoking Villarrica Volcano constantly looming on the not-so-far horizon (great for photos).
There are about 14,000 (local) people that live in Pucón, though this can double or triple depending on the time of year. The town itself is small enough to walk around in an hour or so which is quite worthwhile. You will find that the buildings all have a rustic wooden finish resembling some Alpine towns in Europe.
What makes Pucón so popular is that it is used as a base for all the excursions that are nearby. You can go volcano climbing, relaxing in thermal pools or just hang out on the black sand beach beside the lake. The Trancura River nearby has white water rafting as well as fly-fishing. In a way, Pucón is like a much smaller version of Queenstown in New Zealand (without the bungy jumping). Prices here are generally higher than other cities in Chile.
For many years, Pucón was an exclusive place to visit, frequented by high society and foreign fishers, artists and intellectuals. It still maintains a little of this 'upper class' stigma to it for Chileans though there are now many hostels and activities aimed at backpackers. There are also many activities now catering to all tastes from a luxurious night at the casino to a night out at the pub with your mates.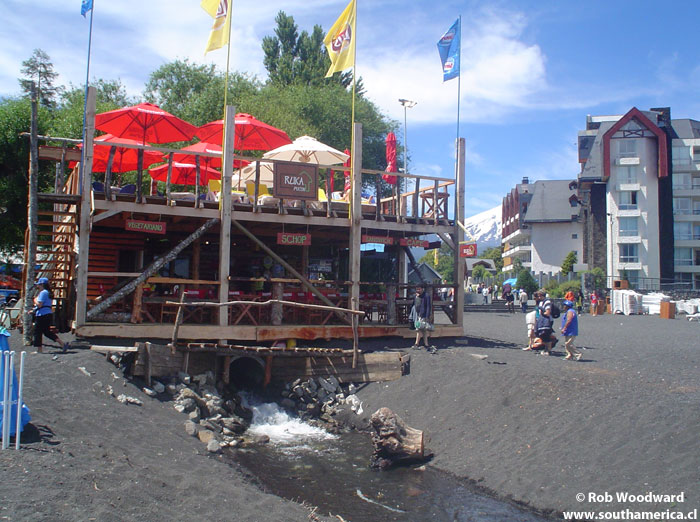 When to go to Pucón?
Pucón is a favourite for Chileans to visit both in summer and in winter.
The busiest time is summer with prices increasing from the first week of December to the middle of March and the winter ski season which varies from year to year.
It is much better to visit Pucón outside of these busy periods, especially summer since it becomes unbearably full of people. The main beach (which isn't that big) is packed in the high season and you often find other people only a few feet from you. There is a lot more beach in Pucón (about 4 km of it) but everyone seems to want to huddle together in a patch of a couple of a hundred meters that is in front of the Gran Hotel Pucón. This 'patch' of beach is where the small wharf is and you can hire boats, windsurfers and jet skis.
If you are going to climb the volcano, you should be aware that trips can be cancelled at any time due to the ever-changing weather conditions no matter what time of year it it. Oh, and because of the occasional small eruption.
What to do in Pucón?
Pucón is such a touristy town that you will find plenty of things to keep you busy over a few days. However most of these activities are of the adventure type outside of the city so booking a tour is normally in order. Inside the town itself you can head down to the lakeside beach (in Summer), visit the main square with a miniature steam train that goes around it. You can also follow the main road (Avenida Libertador Bernando O'higgins) to the end where you will find a small wharf (Muelle Municipal La Poza) with some benches to admire the lake or the volcano.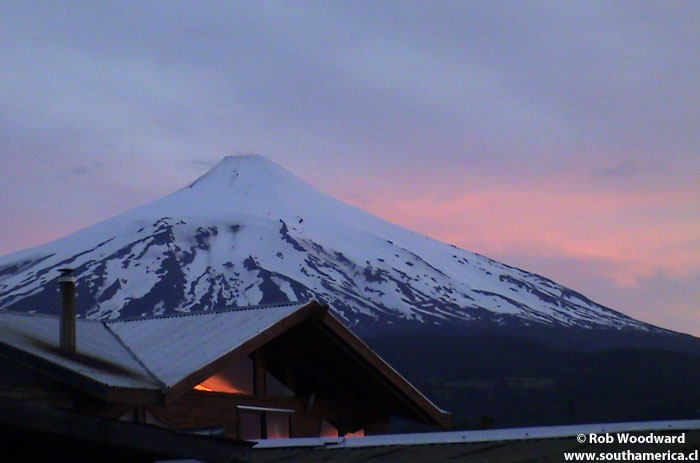 Tour Companies
There are many tour companies that offer day trip activities in the surrounding areas of Pucón. Basically just go down the main road or some of the side streets and you'll find them. They are all priced around the same but you can get better deals for doing a number of trips with the same company. Some offer three day combo tours (or something similar) of rafting one day, volcano climbing the second and natural hot springs the next (to recover from the last two days).
There is also Ethnic Tourism where you can visit a Mapuche village. You get to learn about their culture that has been handed down orally for many generations and also discover how they make many of their crafts.
Climbing up Villarrica Volcano
One of the tours that we highly recommend is climbing up the Villarrica Volcano.
If you found this guide about Pucón, Chile interesting or useful, let others know about it: