Punta Arenas
Chile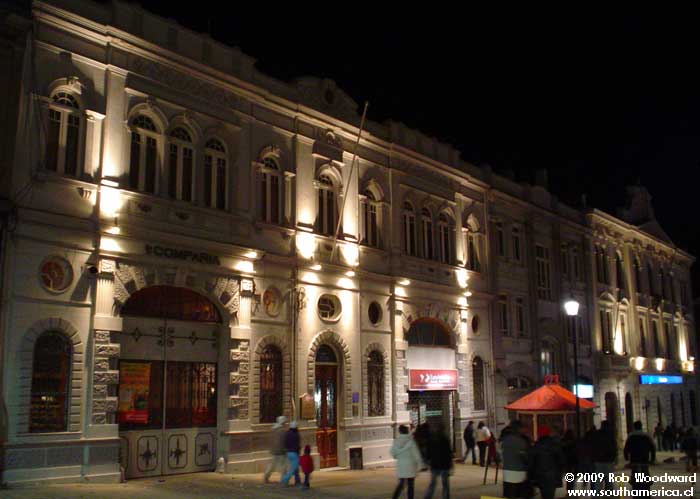 Punta Arenas is the gateway to the wild south of the Patagonian region of Chile. Many people fly into Punta Arenas and then head straight to Puerto Natales 254kms away which is their starting base for the trek to the Torres del Paine or if not, head down to the glaciers on one of the ships. If you can spend a night or two in the city of Punta Arenas, do it since there is plenty to see and do.
The tourist information center right on the Plaza de Armas is closed on Saturday and Sunday. Since we arrived early Saturday morning, we found it hard to get any information about anything since pretty much everything was closed. When we visited the information center on Monday, there wasn't much that we had missed. At least the the girl working there was friendly-ish. I must say though that the building where the information center is based is worthy of a photo itself.
What to do in and around Punta Arenas
If you are pushed for time there is a lot you can do in one day. You can visit Fuerte Bulnes (Bulnes Fort) in the morning (most leave at 10am and arrive back at 1pm), have lunch in the city then stroll around it before going to visit the Penguins at the Seno Otway Penguin Colony in the afternoon (leave 4pm return 8pm).
Below are some of the highlights of Punta Arenas:
The Main Square
The main square of the city is quite attractive with the monument in the center being quite famous in Chile due to a bronze Indian sitting at one end of it. Legend has it that if you kiss the big toe of that Indian, you will return to Punta Arenas one day. The square itself is officially called Plaza Muñoz Gamero. See our video of the statue in our blog post: Kiss the Indian's big toe
Museo Palacio Braun Menendez (Museum)
The palace represents the Golden Age of the Magallanes region with its furniture and objects kept the same since then. The palace was built in 1905 by the French architect Antoine Beaulier after 3 years of work with material shipped from Euorpe. In 1974, the palace was declared a national monument and in 1983 the descendents of Mauricio Braun and Josefina Menéndez donated their house and its all of its belongings to the government. Where once it was only a place that the elite would visit, it is now open to the community as an artistic and cultural place.
For more information and photos of the palace and museum, visit:
Braun Menendez Palace Museum.
Cemetery
The cemetery is quite unique in its design since it contains pathways lined with immaculately shaped trees. Some of the older family mausoleums are quite impressive. The tomb of the unknown Indian is a religious place filled with offerings and plaques giving their thanks to him. More information and photos at Cemetery.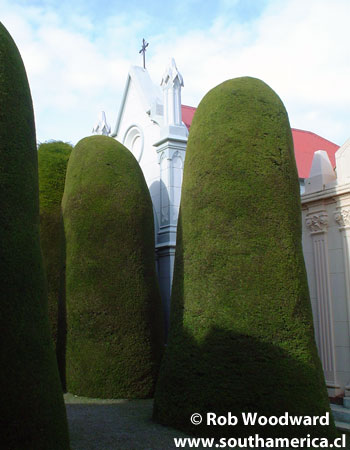 Fuerte Bulnes
A complete wooden reconstruction of a colonial fort at the endmost part of the American continent.
On the way to Fuerte Bulnes is the official half way point of Chile. What is it doing so far down the country? Well it is taken from the most northern point, Arica to the most Southern Point which is the South Pole due to Chile's claim of that part of Antactica.
Seno Otway Penguin Colony
Between September and April you can visit a colony of Magellan Penguins at Otway Sound. The curious part about this colony is that there is no ice that you typically associate with penguins anywhere in sight. You will see them waddling along the beach and across the windswept grass to their holes in the ground.
View of the City
There is a great view of Punta Arenas from Cerro la Cruz lookout. This lookout is only around 6 blocks uphill from the main plaza. This is the typical place where tour groups come to take their classic postcard type photo of the city before they are whisked away. See the video of the panoramic view of Punta Arenas from this lookout at the end of this page.
Winter Carnival
Every August the city holds its winter carnival with floats, costume parades dancing, plenty of food stands and more. There is a large fireworks display on the last night.
Where to Eat
El Quijote: If you are looking for a cheap yet good meal then this is the place. The set menu only cost us $3000 (Chilean pesos - November 2008) each which included entree, main and dessert.
Where: Lautaro Navarro 1087 (A block from the main plaza heading downhill towards the water)
Phone: (56-61) 241-225.
Lomit's: This was the only place we could find open on Sunday afternoon for a bite to eat (around 4pm). Everything else, including restaurants, were closed. Note that they only serve hamburgers and hotdogs, no hot chips/french fries or much of anything else. Very filling meals at a great price.
Where: José Menéndez 722 (A street off Bories)
Phone: (56-61) 243-399.
Restaurant La Tasca: Situated on the Main Square is this Spanish restaurant which serves a mix of traditional Spanish food and Patagonian cuisine. You can buy Patagonian Lamb and even a whole King Crab if you are up to the delicacy (and the price). We found the food good though not cheap at all.
Where: Plaza Muñoz Gamero 771 - 2nd Floor (it's on the main square in front of the tourist information center)
Phone: (56-61) 242-807
Chocolatta: Not a restaurant though a must for chocolate lovers. A cozy little place where we had to wait a few minutes before a table was free (shows how popular it is). Hot chocolate with churros are a delight here after a day wandering the streets. You may want to buy some of their homemade chocolates to nibble on at night.
Where: Bories 852
Phone: (56-61) 248-510.
Where to Stay
HOTELS:
Hotel Plaza
Address: José Nogueira 1116
Phone: (56-61) 241-300
This hotel is very conveniently located in the heart of the city right on the corner of the main square. Our room was nice and warm and the private bathroom was large. They had wireless internet if you have a laptop and also a solitary computer in reception for those without one.
Only problem we had here was a stuff-up by one of the guys in reception that was supposed to organize a couple of tours for us on the Sunday we were there. We ended up waiting in reception for an hour early Sunday morning for a tour guide/company that wasn't going to come. We ended up taking a private guide.
HOSTELS:
Hospedaje Magallanes
Address: Magallanes 570
Phone: (56-61) 221-982
Friendly family run hostel that even has their own climbing wall in the backyard!
Downtown Hostel
Address: Armando 555, 99
Phone: (56-61) Don't know
In downtown Punta Arenas, they also own a specialized Outdoors Store on the main street.
Weather
What would be one word to describe Punta Arenas? ... Windy! I was told about it being windy there though actually experiencing it is another story. It just doesn't stop and it gets quite strong. In fact, as you come from the airport you will see trees leaning over in one direction that have grown that way due to the constant wind. The temperature may not seem too bad when you see forecasts on TV or in newspapers though the constant wind makes the real temperature lower than is announced. A jacket to ward off the wind is a must and we found a woolen hat necessary at the beginning of November. I was recently back in Punta Arenas at the end of August and to my surprise there was NO wind during the two days I was there! Was that luck or what?
Since Punta Arenas is so far south, Summer days are very long where as Winters only have a few hours of light. Winter is still good time to go if you can coincide your visit with the Punta Arenas Winter Carnival.
Souvenirs and Handicraft
If you are looking for a place to buy souvenirs, we recommend a store called Rama. It is only one block from the Main Square heading towards the city lookout. It was one of the few places open on Sunday and there was a large variety of handicraft and souvenirs that were at a decent price. The man that attended us was also very friendly and helpful.
Artesanías Rama
Address: Waldo Seguel 660
Phone: 240-244
Video of Punta Arenas
A panoramic view of Punta Arenas from the hill overlooking the city. I turned the sound off from the original recording since the strong wind blowing in the background was quite annoying. If you think the shot is a little shaky, try recording with cold numb hands!
To and From Punta Arenas
There are a number of flights every day to Punta Arenas from Santiago and other parts of Chile. The flight between Santiago and Punta Arenas normally has a stop in Puerto Montt and takes a total of 4:15 hrs. The airport isn't far from the center of the city and only costs $3000 (April 2015) for the transfer.
There are buses that go every day between Punta Arenas and Puerto Natales (250km - 3 hours). They cost from $4.000 one way (August 2009 - low season). A couple of bus companies are Bus-Sur - Buses Fernández.
If you found this guide about Punta Arenas, Chile interesting or useful, let others know about it: