Cerro Santa Lucia
Santiago - Chile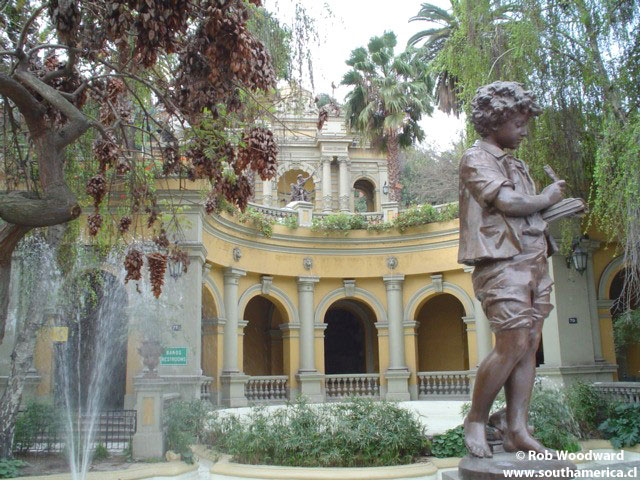 At the eastern end of downtown Santiago you will find Cerro Santa Lucia which is a small hill that is adorned with wonderful facades, fountains and stairways and that even has a 'castle' on it.
Note: Cerro is Spanish for Hill.
Entrance is free though you will have to give your passport (or ID) information before you can enter.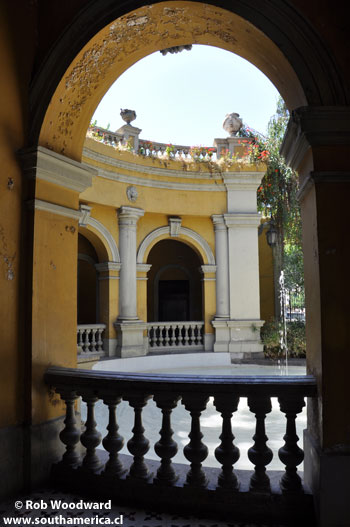 The History of Cerro Santa Lucia
This small rocky hill was originally called Huelén by the Mapuches inhabiting the region. The Spanish Conquistador Pedro de Valdivia later changed its name to Santa Lucía. It was at the foot of this hill that Pedro de Valdivia founded the city of Santiago on February 12th, 1541.
After the founding of the city, the Spanish conquistadors used Santa Lucia hill as a lookout point for the planning of the city according to the traditional Spanish checkerboard layout though it remained largely unchanged until the early 18th century.
Between 1814 and 1817 royalist troops under General Casimiro Marcó del Pont (the last Spanish Governor in Chile) added two defence fortifications, La Marcó and Castillo Hidalgo (Hidalgo Castle). At this time, part of the hill was used as a cemetery though it was later moved to the Cementerio General (General Cemetery).
In 1872, Benjamín Vicuña Mackenna decided to make the hill a new attraction. Different types of trees, plants and other vegetation were introduced to make the 'big rock' more inviting and not so much of an eyesore. Plazas (squares) with fountains and numerous lookout points were connected by a labyrinth of stairways and paths to make the hill a lovely place for a stroll.
The Alameda entrance was designed by the Architect Victor de Villenueve which was eventually finished in 1902.
Cerro Santa Lucia was declared a national monument on 16 December 1983.
The only major change since then is that the Castillo Hidalgo (Hidalgo Castle) has been converted into an events center. It is now a popular place (and an expensive one) to hold weddings.
Entrance to El Castillo Hidalgo which is at the back part of Santa Lucia.
Traditionally, a cannon is fired every day at midday from the top of Santa Lucia Hill. (I'm sure it's to let the office workers know it's almost time for lunch and to have fun scaring the pigeons.)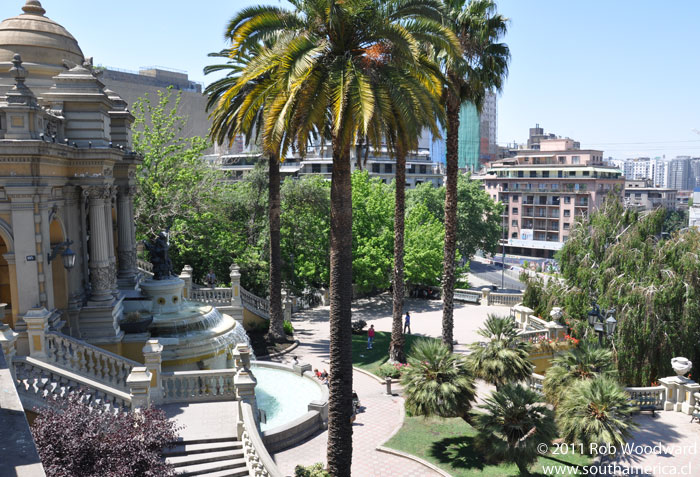 Great Views of the city
You have a great view of Santiago from the top of Cerro Santa Lucia (especially after a rainy day that clears the smog away) though Cerro San Cristóbal is higher and has better views.
Warning!
You should never visit Cerro Santa Lucia after dark since it is notorious for muggings at night.
How to get to Cerro Santa Lucia?
Cerro Santa Lucia is right on the main road 'Alameda' and has a metro (subway) station right underneath it with the same name (Santa Lucia - Line 1). There are a variety of entry points including an elevator on the western side though it is recommended to start at the main entrance on Alameda. Admission is free though you may have to sign a guest registry at the entrance.
The hill is right next to the National Library and just across the main road (Alameda), you will find a Handicraft market with all types of typical Chilean products and souvenirs.
More photos of Cerro Santa Lucia
Terraza Neptuno (Neptune Terrace) - With its beautiful fountain
If you found this guide about Cerro Santa Lucia in Santiago, Chile interesting or useful, let others know about it: