Patio Bellavista
Santiago - Chile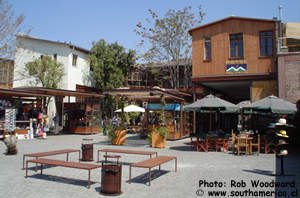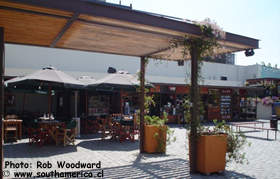 In all of Santiago perhaps there is no place quite so charming as Patio Bellavista. Nestled in the heart of the Bellavista Bohemian district with its artistic roots this beautiful plaza has become a meeting place for tourists and locals alike.
Patio Bellavista is renowned as a center for art, culture and cuisine. They offer a variety of activities and services, with restaurants, restobars, fine quality art crafts, wine shops, an art gallery, ice cream parlor and more.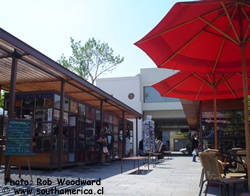 There are some 50 shops full of top quality art handicrafts and souvenirs, each with their own specialty. From jewelry (including beautiful work in lapis lazuli), pottery, natural products, artwork, Mapuche remedies, fine leather products, books, music, textiles and more you won't be able to resist!
In the daytime it is ideal for rummaging through the many shops and enjoying the relaxing environment. As the sunsets be sure to take advantage of the patio's several restaurants and one of the many concerts or other cultural events that take place here.
Different events are constantly going on at Patio Bellavista, from traditional Chilean dances to cultural and historical exhibitions.
How to get there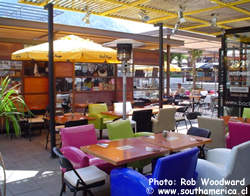 The patio is located just across the river from the subway station Metro Baquedano (at Plaza Italia). When you come out of the station look towards the hill with the huge statue of Mary on top (the hill is called Cerro San Cristóbal). Head towards it. You will cross the Mapocho river and be on a street called Pio Nono. Go past the craft market on the left and the Law school on the right and it is on the next block on the right. The entrance is only a smallish doorway so sometimes it is hard to find, though it opens out into a big Patio. If you get lost, ask around for it. It's an important place in the area so everyone knows where it is.
Situated between the two street entrances at Calle Pio Nono and Constitución, it is conveniently located near several other tourists locations. Patio Bellavista is walking distance to Pablo Neruda's home, La Chascona, Cerro San Cristóbal (that big hill), and a little further away the Museo Bellas Artes (Museum of Fine Arts), and El Mercado Central (the central market), and several other important sites.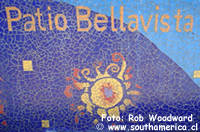 If you found this information about Patio Bellavista in Santiago useful, share it with others: