Temuco
Chile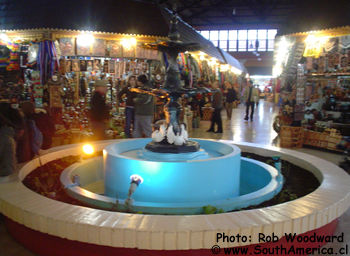 Situated 670km south of Santiago with around 300,000 people, Temuco is the main hub of the region. The name Temuco comes from the local Mapuche language meaning 'Water of Temu', Temu being a medicinal plant used by them.
In winter there is constant aroma of logs burning in a fireplace in the air since that is the main source of heating in the city. Unfortunately, the pleasant smell contributes to the problem of smog in the city in the winter months. Something that I found interesting (and great) were the log fireplaces at the airport both in the main area as well as the departure lounge to keep them warm.
Where to Eat in Temuco
Probably the best places to eat are at the Mercado Municipal (City Council Market) in the center of the city. There are a variety of restaurants to choose from. One that we ate at and thoroughly enjoyed was 'El Criollito'. Great food and those 'sopaipillas' with two sauces served as free entrées were fantastic! Afterwards you may need to stroll around the rest of the market looking at the handicraft to walk off the hearty meal.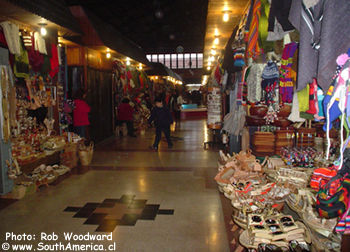 What to buy in Temuco
Temuco is the place to buy handicraft and other products to do with the Mapuche (indigenous culture of the South of Chile). You can find everything from woven products to wear to musical instruments and even a local spice called Merkén (or Merquén).
Getting There and Away
By Air: There are daily flights to Temuco from Santiago. (Flight takes approx. 1 hour)
By Bus: There are buses to go to Temuco daily from most cities.
Some prices and travel times via bus:
Santiago to Temuco: 9 hours (from CLP$7.700 - April 2015)
Concepción to Temuco: 4 hours (from CLP$6.000 - April 2015)
If you found this guide about Chile interesting or useful, let others know about it: