Valparaiso
Chile
Situated about 120km (72 miles) northwest of Santiago, Valparaiso is the second biggest city in Chile and the Capital of the Region.
What to see and do in Valparaiso
In 2003 Valparaiso was declared a World Heritage Site, due to its historical importance, natural beauty, original architecture and layout.
You will find many funiculars, known as 'ascensores' throughout Valparaíso. These are a way for local people to be taken to and from their homes high up in the picturesque hillside neighborhoods. Some of the 'ascensores' where built as early as 1883. These are a must do when you visit the city as you will get to see some amazing views from them as you go up.
Muelle Prat (Prat Wharf) can be found at the foot of the Plaza Sotomayor, the main square of Valparaíso. Muelle Prat is the only wharf where the public can closely watch the loading and unloading of the ships from a safe distance (if that's your type of thing). You will find a typical handicrafts market at this wharf and boat trips around the harbor can also be taken from here.
From Plaza Sotomayor you can head south along Cochrane street where you will come across Plaza Echaurren. You can pay a visit to the Iglesia La Matriz del Salvador church just off the square. It was originally built in 1559. Go back to Plaza Echaurren and along Cochrane street until the end of it where you will see the Aduana (Old Customs house) and Ascensor Artillería. Take this funicular/elevator up the hill to Paseo 21 de Mayo walkway where you will some stands selling handicraft but more importantly it has a magnificent view of Valparaiso. From this short walkway you will see some stairs leading up to the Museo Marítimo Nacional (National Maritime Museum).
It's possible to visit one of Pablo Neruda's three houses in Valparaíso. His other two houses are in Santiago and Isla Negra on the coast and this one, known as La Sebastiana, is perched high up on a hill with spectacular views of Valparaiso and its bay. Neruda spent less time here than in his other houses though as always, he left his unforgettable mark there. (Pablo Neruda won the Nobel prize of Literature in 1971)
Random Facts about Valparaíso
Valparaíso's newspaper, 'El Mercurio de Valparaíso', is the oldest Spanish-written newspaper still in circulation. It first appeared in 1827 and has been going ever since.
Valparaíso is the only city in Chile where you can still travel by Trolleybus. The route is a little over 8 km taking you between Av. Argentina and the Aduana (Customs). The oldest working Trolleybus in the world that is still in its original condition can be found doing its rounds in Valparaíso. (Trolleybus 814)
Valparaíso is home to Chile's naval headquarters and also the National Congress.
A large percentage of Chilean exports go through Valparaíso, the country's main port. In the 19th century, before the Panama canal was built, Valparaíso was a stop-off point to take on new supplies when ships were traveling between Europe and the west coast of the United States.
Many cruise ships use Valparaiso as a stopover port. Some people even fly into Santiago and take a transfer to the city where they start their cruise. Transfers can be organized at the airport.
Valparaiso and Viña del Mar (Full Day Tour)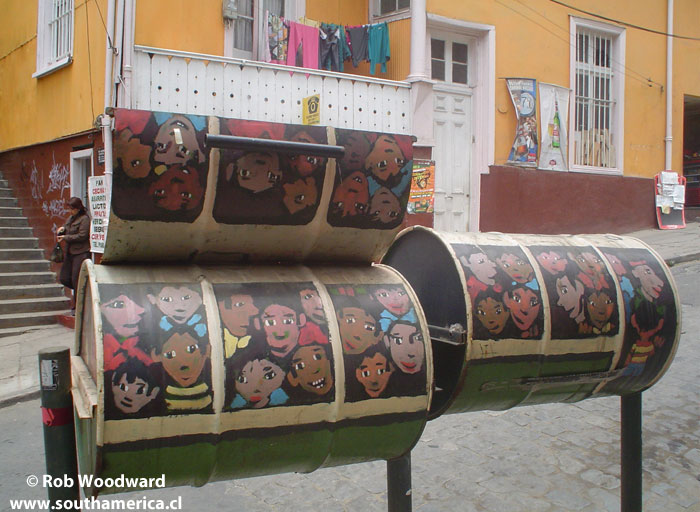 New Year Fireworks
There is a spectacular fireworks display that explodes over the harbor of Valparaíso every New Year's eve. The show draws immense crowds every year with people arriving and saving their place from early in the morning in order to keep their prime viewing spots. Since around a million people go to Valparaíso to see the fireworks display, make sure you get your accomodation and bus tickets to the city in advance.
See our blog post about celebrating New Year's in Valparaiso.
Where to eat in Valparaiso
Puerto Lindo (Restaurante Marisquería - Seafood Restaurant)
Cochrane 253 (on Plaza Echaurren)
Valparaiso
Phone: 32-2214301
Where to stay in Valparaiso
La Nona B&B
Galos 660, Cerro Alegre, Valparaiso
Great location and great breakfasts
Hostal Caracol
Hector Calvo 371, Cerro Bellavista, Valparaiso
Situated up one of the hills just blocks from Pablo Neruda's House.
Hostal Portobello B&B
Artilleria 115, Valparaiso
A boutique hostel more than a party one that's about a 15 minute walk to the center.
Hostal Morgan
Capilla 784, Cerro Alegre, Valparaiso
Good location with helpful staff
If you found this guide about Valparaiso in Chile interesting or useful, let others know about it: