Caracas
Venezuela
Caracas, officially "Santiago de León de Caracas", is the Capital of Venezuela, as well as its administrative, financial, commercial and cultural center. Caracas officially has a total population estimated of more than three million people (2005), though unofficial sources indicate that the population is well over 5 million in the Metropolitan area.
The city is located in the center-north of the country about 15km from the Caribbean sea, separated from this by the El Ávila National Park. The Caracas Highway allows the connection of the capital with the Caribbean coast and the principal airports and maritime ports of the country in 20 minutes. The Guaire River runs across most of the city.
Caracas has impressive modern structures that intermingle with world heritage sites. It is a concrete jungle intertwined with beautiful parks and natural reserves with the cultural and commercial activity on a par with any capital city.
While the city itself is not high on most people's list of tourist destinations, it could be for this reason that you would want to visit. The city itself is a strange mixture of poor and rich living alongside one another. On one block you may find a 4-star restaurant but if you turn the corner you could end up in a dangerous neighborhood where a tourist with a lot of money will stick out like a sore thumb.
One of the greatest parts to the city though, it must be said, is the friendliness of the people; a rather helpful attribute considering that you will undoubtedly get lost at some point in your journey and will need to ask for directions. You can't generally expect to go by the numbers on the streets, as buildings are often out of order if they are even numbered at all. The city has grown quickly and haphazardly. There are some neighborhoods that still lack running water and basic sanitary needs. The population, like its buildings is a mixture of people coming from several different ethnic backgrounds.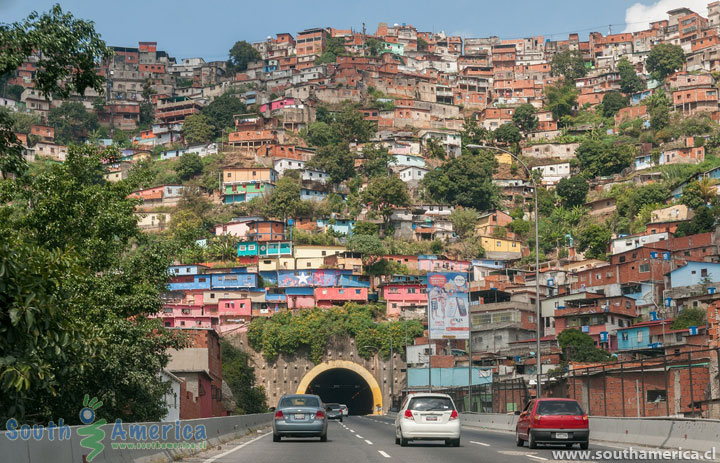 What to See and Do
Ávila
Towering 1000m over the city itself, this mountain has a true presence in Caracas. The best way to visit the mountain is to take a teleférico (cable car) to the top. It is an enjoyable ride that lets you look out over the entire city as well as the beautiful beaches and glorious Caribbean Sea beyond. There is actually a National Park taking up most of the hillside, and it is a common place for locals and tourists alike to visit. There are two different options for the cable cars, one of them taking you to the ice rink and hotel (most people opt for this one). The cars go up ever 20 minutes or so, depending on the number of passengers. There are also a few other attractions, mainly aimed at young children and a few unmarked trails you can hike around. Try going up earlier rather than later as the smog from the city puts a damper on the views. There is actually a small town, Galipán, up at the top of the mountain and restaurants of all types where you can grab lunch. Also you should consider bringing a light jacket or something to break the wind.
Teresa Carreño Cultural Complex
This is one of the most important theatres in Caracas and is located in the cultural zone of the city.
Casa Natal del Libertador
Simon Bolivar's childhood home and place of birth (July 24, 1783), it is now a homage (one of many in Caracas) to the Liberator. This Spanish-style colonial house was declared a National Monument in July 2002 and is now filled with works of arts depicting battle scenes more than with his own personal objects. In the central court (patio) you will find the fountain that used to belong to the Caracas Cathedral in which Bolivar was baptized. It is open from 9am to 5.30pm with a long break from noon to 2:30 for lunch; closed on Mondays. Admission is free! (the corner of Av. Universidad and Norte 1, Downtown)
Casa Amarilla (Yellow house)
Declared a National Historic Monument in 1979, this impressive neoclassic building that dates back to the 17th century. Originally it was the home of the General Captaincy and Royal Prison in Colonial times (you can still find shackles, bars of iron and chains in the jails of the basement).
What makes this place important is that it was where the first independence movement in April 19, 1810 took place which marked the beginning of the end of Spanish colonial rule in Venezuela. During the republican period the building had many uses including the home of the Ecclesiastic Council of Caracas, the Office of the President of the Republic, the Presidential residence, the Government office of Caracas and as courts amongst others. Since 1912 the Casa Amarilla has been the office of the Foreign Affairs department. It still contains religious works of art, portraits and sculptures of famous people involved in the country's independence, there is also furniture that dates back to the 17th and 18th century, maps and engravings of the American continent and also tapestries of transcendental events in the history of Venezuela.
Palacio de Miraflores (Miraflores Palace)
With construction starting in 1884 and taking years to complete, this palace was originally owned by General Joaquin Crespo. The Venezuelan government eventually purchased the building with Cipriano Castro being the first president to live here in 1900. He did so after a major earthquake that same year and the palace was one of the first earthquake-resistant buildings of Venezuela. The palace was abandoned and almost demolished in 1950s during the dictatorship but nowadays it is the presidential dispatch where meetings of State and official celebrations are sometimes held. In February, 1979, the palace was declared a Historic National Monument.
El Palacio de las Academias (The Palace of the Academies)
This is a colonial building of Neogothic style located in the Cathedral Parish of which construction began in 1577 for the Franciscan monks. In 1952 the government decided to move the academies of history, medicine, languages, physics, mathematical and natural sciences amongst others to this building. On April 6, 1956 it was declared a Historic National Monument.
Iglesia San Francisco (San Francisco Church)
Some of the paintings inside are very beautiful examples of religious art through the ages, although the church itself isn't as grand as the Cathedral. It does however hold the honor of being both the place of Simon Bolívar's funeral and the site on which he was formally proclaimed El Libertador. (the corner of Av. Bolsa and Av. San Francisco)
Museo de Arte Contempráneo (Museum of Contemporary Art)
Here you can find some of Picasso's work, as well as many other famous artists both from Venezuela and abroad. It is one of the best collections of Modern art in all of South America. (Parque Central)
See our list of Museums in Caracas.
Panteón Nacional (The National Pantheon)
Originally the Church of the Holy Trinidad, it became the National Pantheon in 1875. Its architecture is traditional colonial style which later transformed during its reconstruction and became the first Neogothic design of Venezuela. There is something truly unique about this building that makes it worth a good photo opportunity. Perhaps it is the fact that is is painted a light shade of pink.
Inside the Pantheon you will find the remains of the most illustrious Venezuelans, such as Marqués del Toro, Jose Gregorio Monagas, Andrés Ibarra, Ezekiel Zamora, and of course those of the Liberator Simón Bolívar whose body was moved here in 1876 (having been in the Cathedral of Caracas since 1842). Besides being the national mausoleum, it contains important works of art including an enormous Baccarat crystal chandelier with over 4,000 pieces and 230 lights.
This monument forms a part of the Foro Libertador, a large space where the impressive buildings of the National Library and the Supreme Court of Justice can be found. Make sure that you go so that you can see the changing of the guards that happens several times a day.
El Hatillo
Take a stroll during the day around this old colonial town that has been well kept to look as it once did. The red tile roof on all the buildings create a sense of uniformity and beauty in an otherwise chaotic city. It is located just outside of the South Eastern corner of the city. While there you must visit the indoor artesian market Hannsi Centro Artesanal, (Calle Bolívar 12). They have a large collection of varying souvenirs, some of really high quality. It is the best place to get your tourist shopping done while in Caracas. You should plan for a whole afternoon in El Hatillo. Bring your walking shoes, it is hilly, and although you can take a bus there from downtown or a taxi the best way to explore the area once there is on foot.
Mercado Guajiro
This is another good place to go shopping for arts and crafts objects. It is near Plaza Chacaito.
The Cathedral
Not surprisingly for Caracas, this church contains the Bolívar family chapel. Make sure you take a good look at the altars which have been hand carved. You can also find the Museo Sacro de Caracas here, although it is nothing to write home about. The original building was destroyed in an earthquake and was rebuilt between 1665 and 1713 and remains as it always has since that time. You'll find it on Plaza Bolívar.
Parque del Este
Caracas' version of Central Park, this is where many locals spend their weekends playing football, tennis, basketball or jogging, having picnics, or visiting the not to impressive zoo. There is even a replica of a ship in one area. You need to pay a minimal amount to enter. The park is only open during the day. It is easy to access by subway.
Baseball
Baseball is a national pastime in Venezuela unlike all the other countries of South America. They have both a local professional league, with a season running from the end of October to the end of January every year (The off season for the U.S. Major league, so that many players from the States often play here to stay fit). It is worth it to catch a game here, as the league in general has a lot of great players and it is a unique experience that you won't find in the rest of the continent.
How to Get Around:
The airport is commonly referred to as Maiquetía Airport (the name of the area it is located just outside of the city) although the official name is Simón Bolivar International Airport. While the airport itself is nice, clean and modern, you will probably be more impressed by the mobs of men soliciting everyone for a taxi ride as they come out of the international customs line. Make sure you argue the price into town before you get into the taxi. Taxis generally don't have meters. You'll need to haggle over the price before you get into the cab. If you get your hotel to set up a ride for you it will normally cost you a bit more, but then again a lot less than if you get ripped off for your sheer lack of knowledge of distances around the city.
Subway
The Metro is generally one of the best bets; it is clean and generally safe (although you should always be aware for a pickpockets no matter what time of day). You pay depending on how many stations you are traveling, rather than a set fare. Don't expect to have a lot of personal space to yourself while on the metro. Because of its efficiency it seems to be the preferred form of travel for most locals as well. There is also a bus system that is connected to the metro, which goes places the subway cannot reach, although the buses are much less frequent than the metro itself. The metro has 4 lines and 40 stations and is open until 11pm.
Buses
While buses (both the public system and private companies) are an incredibly cheap way to get around the city it isn't recommended for the average traveler just passing through. You won't find maps with posted bus routes and it is very likely that you could end up somewhere you didn't expect to be. These small buses can be hailed from anywhere in the city, although be careful not to get run over while sticking your hand out into the street.
Where to Stay:
Tourists should be careful when deciding where to stay in the city. Many of the cheaper options are in the more dangerous area, and if you plan on going out at night you could run into problems. The three most affluent neighborhoods Altmaira, El Rosal, and Las Mercedes all have an assortment of upscale restaurants and hotels, although don't expect to come out of here as rich as you went in.
Hotel Savoy: Only one block from the pedestrian roads with many restaurants and shops, and four blocks away from the metro, this is an ideal location for your stay on a budget. The hotel is pleasant with a small balcony for each room and comfortable due to the air conditioning. (Av. 2 Las Delicias, Sabana Grande).
Hotel Altamira: nearby this hotel is about the same price and offers the same basic accommodation. Av Jose Felix Sosa, Altamira Sur.
If you are going to splurge on an American style hotel, which is not a bad idea while in Caracas, we recommend the Marriot, it is in one of the best locations and the staff there is very helpful. Plus the hotel is on the smaller side as far as these huge chains go, so you feel well taken care of. (Av. Venezuela and Calle Mohedano)
Where to Eat:
El Tarantín de Valentina: One of the best examples of classic Venezuelan cuisine, it offers great service and a comfortable ambiance. The owner is also famous for writing a book on Venezuela. (Tercera transversal between Seguna Avenida and Andrés Bello, Los Palos Grandes. phone: 212/ 285-8839)
El Fogón: real traditional meals just like your Venezuelan mum used to do. It is a popular spot with locals and tourists alike, so you might want to book ahead on a weekend night. Bring cash, as credit cards are not accepted. Closed on Mondays (Calle La Paz, El Hatillo phone: 0212/ 963-1068)
Tarzilandia: This restaurant is filled with all kinds of wildlife and plants. Dine on high quality steaks and seafood, and don't forget to save room for a tropical dessert. Av. San Juan de Bosco at Decima Transversal.
Da Guido: Located in Sabana Grande, this family run restaurant serves up authentic Italian food. It is a great place for a party, with several different options for everyone. You'll love the atmosphere, including the giant ham legs hanging from the ceiling. Av. Mariscal Francisco Solano, Local 8.
El Gormet Vegetariano: An all you can eat vegetarian buffet, a change from the normal restaurants here.
The News Café: Several different vibes all under the one umbrella, they have a small book store, café, restaurant and jazz club, all blending together very well. Be sure to look down in the main dining room at the mosaic floor. (1st Transversal de los Palos Grandes and 1st Ave. Quinta d'Casa phone: 0212/ 286-5096)
Where to Dance:
It helps to have a whole lot of friends when you go out in Caracas, or a really high tolerance for alcohol as one of the best ways to get a good deal, and a common practice among the locals is to buy your own bottle of rum from the bar and serve yourself as you go. Also not a bad way to make friends.
La Mercedes is the area with most of the great bars and clubs.
El Maní es Así: Located in Sabana Grande it is a great place for salsa dancing. There is no cover, and the live band is always rocking. They are closed on Mondays. (Corner of Calle El Cristo and Av. Francisco Solano López)
Latino's: If you want to sit back and watch the locals show off not only their dancing skills, but also their flashy attire then this is the place to go. A tie would not be inappropriate here. (Centro Comercial Los Chaguaramos)
Trasnocho Cultural: Okay so this isn't really a place to dance, but if you are looking for a mellow night with live music or catching an idle movie this is a good place to hang out. There is also a place where you can discuss the meaning of life or maybe just make travel plans for the day. (Centro Comercial Paseo Las Mercedes, 0212/ 993-1910)
When to Go:
Considering that the weather hardly ever changes here, you can visit Caracas and its nearby beaches anytime of the year. The coldest months hardly ever go below 20 degrees Celsius during the day. During the winter months although, there is a lot of fog.
July 24th Simon Bolivar's birthday is one of the biggest celebrations in Caracas, and is a great time to party with Venezuelans!
Traveler's Tip:
Often the police here can be helpful, and will tell you which areas are safe for you to be in as a tourist, however they normally expect something for this help. One friend wanted to go out to a restaurant that did not accept credit cards, so when he went to find an automatic teller machine a police officer offered to escort him the two blocks to the less than safe location at night. Of course it was understood that the police officer expected to be paid for his protection. The transaction was made out in the open, for the entire world to see.
In case of an emergency in Venezuela call 171. The police, fire department and ambulance are all integrated. The phone operator most likely won't speak any English however, so your best bet might be contacting your hotel first.
If you found this guide about Caracas, Venezuela interesting or useful, let others know about it: