Anakena Beach
Easter Island - Rapa Nui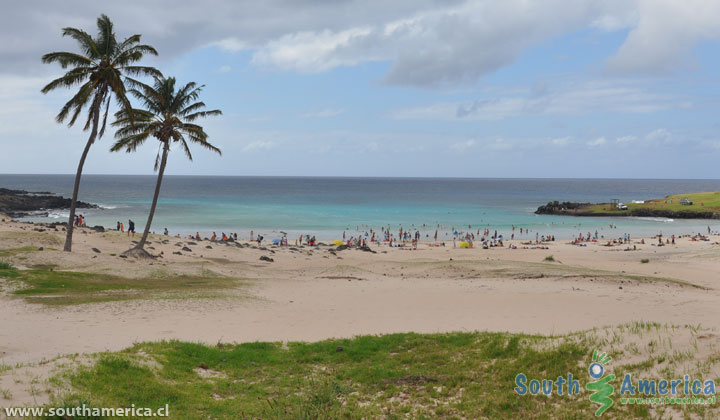 Anakena is THE beach of Easter Island. It is one of the only white sand beaches on the island (the much smaller and less crowded Ovahe is the other one). The rest of Easter Island's coastline is more rugged with volcanic rocks and no sand.
Anakena is your classic tropical beach that has palm trees with coconuts, a beach with fine white sand and calm blue waters that are warm to swim in. What makes it a little different from other islands is that you also have some moai standing nearby.
The main ahu contains 7 moai lined up, the first 4 of them (from the left) have their Pukao (the red top knots that look like hats) and the last two moai are only fragments of their former size.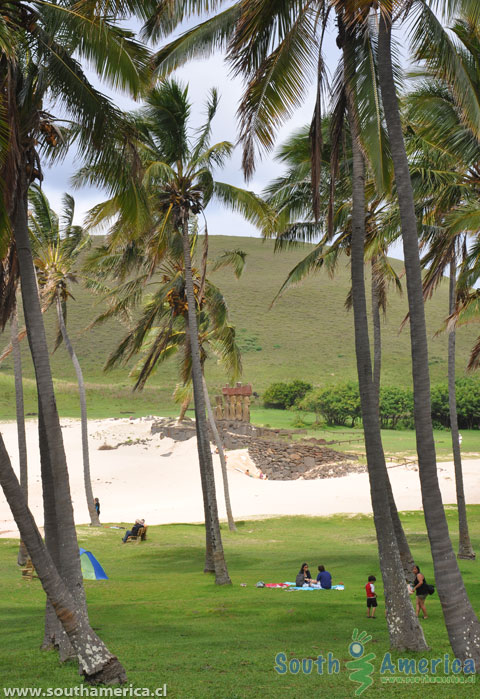 Behind these moai and part way up the hillside to the right you will see a lone moai looking inland.
Between the car park and the beach there is also a picnic area under the shade of coconut trees (always listen out for a cracking sound that precedes a coconut falling). This sector has picnic tables and areas of grass to put your blanket down.
Notice that the palm trees here had to be reintroduced onto the island (they were brought over from Tahiti) due the extinction of all trees centuries ago from their overuse in the making of, and transporting of Moai.
Near the beach entrance and also in the car park you will find some stands that a variety of things from food to souvenirs. Even though drinks and food are a more expensive here at Anakena than back in Hanga Roa (which itself is expensive anyway), we still recommend you try one of the Tuna and cheese empanadas you can buy here. This is also the place where you can hire sun umbrellas if don't have one.
In the car park you will find some changing rooms/toilets which you have to pay to use ($500 pesos - January 2013)
When to visit Anakena Beach
The beach is a lot more peaceful in the morning where there may only be a few other people on the whole beach. Later in the afternoon many tours have Anakena Beach as the last stop after a day of visiting all of the moai along the southern/eastern coast. Despite this, the beach doesn't get overcrowded and is still a wonderful place to wind down it is.
You will find that there are more people at Anakena on the weekend as it is a place locals like to come and relax. Busy months (if you can really call it that) are late January to the end of February when many Chileans go on vacation. Having said that, we were here on a weekend at the end of January and it never felt like the beach had too many people.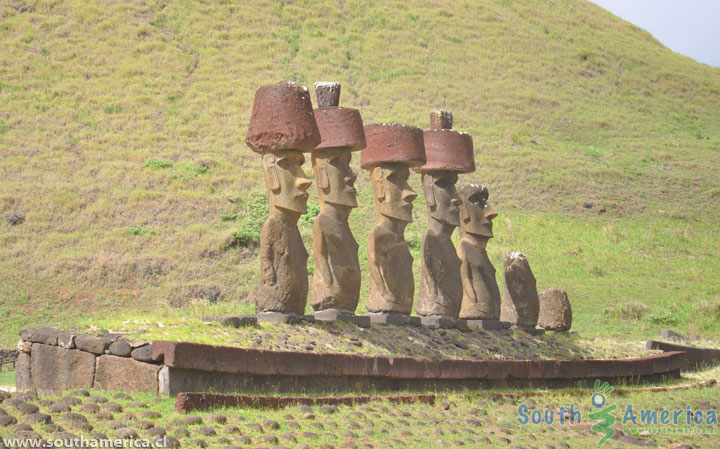 How to get to Anakena Beach from Hanga Roa
You need to have transport to get to Anakena Beach unless you like to spend the entire day walking.
By car it usually takes around 20 minutes to get from Hanga Roa to Anakena via the only road that cuts through the middle of the island.
Rent a car: There is parking available near the changing rooms/toilets and main entrance (we had no problem finding a parking space on a busy weekend). From Hanga Roa, head towards the airport and just follow the road that runs along side it. It will bend towards the left and follow it all the way to the beach. You don't need to turn or take a side road at any time (so you can't exactly get lost doing it yourself).
Shuttles: You can take one of the many shuttles that go to Anakena for the day (Prices from $5000 pesos per person January 2013). There are small signs in different shop windows along the main road of Hanga Roa. Call the numbers that appear or ask in that shop and they will help you out.
Taxi: If there are more of you, it might be more convenient to take a taxi to the beach. Prices vary a little though are usually from $14.000 pesos (return). They will take you there and return to pick you up at a specific hour.
No cell phone coverage
Note, at the time of writing there was no cell phone (mobile phone) coverage so if you are organizing pick-up/drop-off times, you can't just call to say "we're ready, come and get me". No, a fixed time needs to be arranged beforehand.
What is near Anakena Beach?
Not far from Anakena is the other white sand beach of Ovahe. You can walk to it via a path along the coastline (20-30 minutes) which is to the right of Anakena beach.
Further east you will find Te Pito Kura and the magnetic healing stone.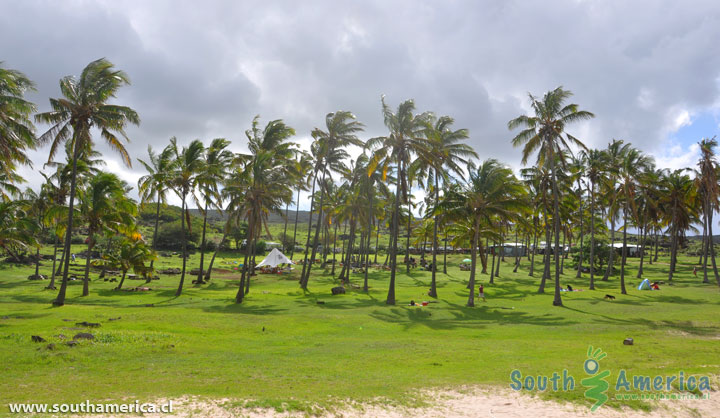 NOTE: Rob W. and Ange P. spent a week on Easter Island at the end of January 2013 to produce most of the information, photos and videos we have here.
If you found this guide about Anakena Beach on Easter Island interesting or useful, let others know about it: