Angelmó
Chile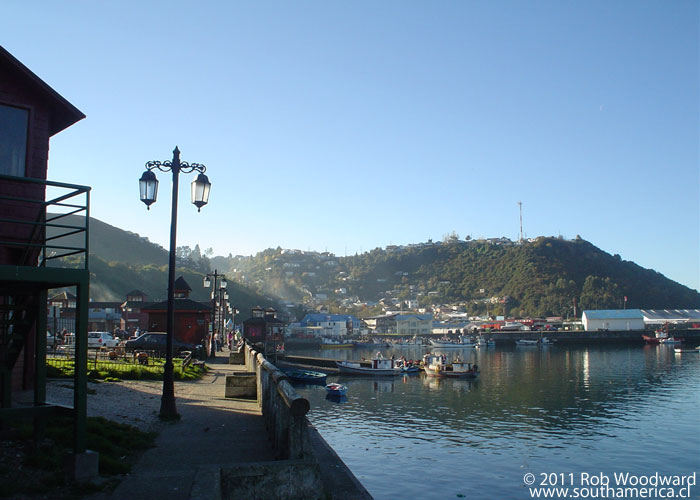 Angelmó is a small bay at the west end of Puerto Montt (about 2km from the center of the city). Its name comes from when the local indigenous people mispronounced a local doctor's name called Angel Montt when the area was just started to be populated.
Angelmó can be divided into two main areas.
The first part is as you enter which is a long street crammed packed with many stalls selling traditional Chilean handicraft and products.
The second part is where the boats come in to unload their catch of the day. Here you will find the fish market selling all types of weird and wonderful things and also the many restaurants offering their wares, some of them on stilts over the water.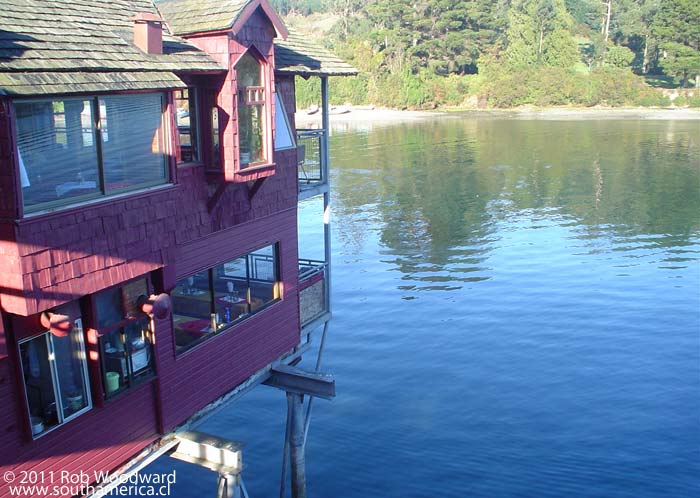 Angelmó Craft Stalls
There are lines of places to buy handicraft as you come into Angelmó and also just outside the restaurant area. After a while many of the stalls all begin to seem the same, however, you can use this to your advantage, haggling over the prices and finding the best deals. Many of the souvenirs available are made of Alerce (a tree that only grows in the lake region of the south of Chile between Valdivia and Chiloé). Even though the city of Puerto Montt revolves around the salmon industry, you won't find many salmon mementos to take back. You might want to get a bottle of Licor de Oro which is a delightful (sweet) golden liqueur typical of the area.
The craft shops of Angelmó are open all year round and in Summer until 8pm. Credit cards are accepted at most places.
If you wander a bit further down the road you will find the fish market and the restaurants. Angelmó is a seafood extravaganza with a large variety of fresh fish and seafood that you can see being taken out of small boats just meters from where you can eat them.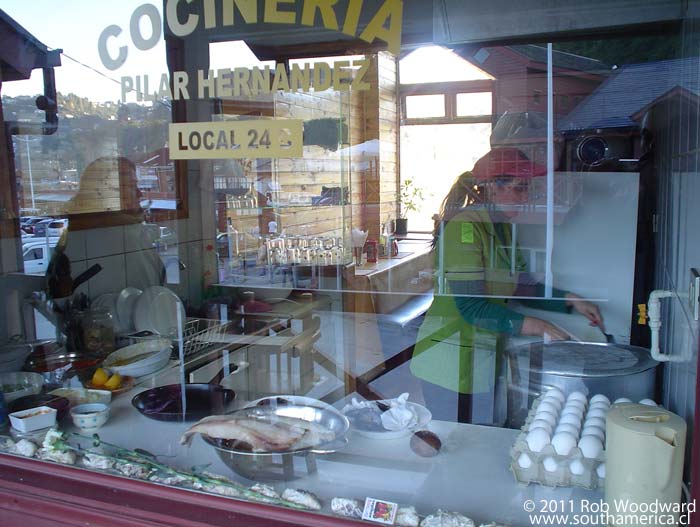 Cocineria (Kitchen Restaurant)
A novel way to have lunch at Angelmó is by going to a Cocineria or 'Kitchen Restaurant'. You will find a line of these mini restaurants where you are able to see the kitchen and everything happening in it behind a large window. This way you can see how they prepare the food and you can also check out how clean the kitchen itself is before you decide which one to go to.
A typical cocineria only has enough room for two benches for a total of 12 people at any one time. The person that cooked for us was also the person who took our order. It's usually a one person affair though you might find someone else helping (usually another family member) in the busy season. The one we visited was Cocineria Pilar Hernandez (Local 24) in the photo above where we had a great Curanto en Olla dish.
How to get there
You can walk to Angelmó from the Puerto Montt city center (takes between 30-40 minutes) and get a Colectivo (shared taxi) back with costs $400 (October 2011). I wouldn't recommend walking to or from Angelmó as it gets dark though. You can take a taxi too though it's not the cheapest option.
Other Photos of Angelmó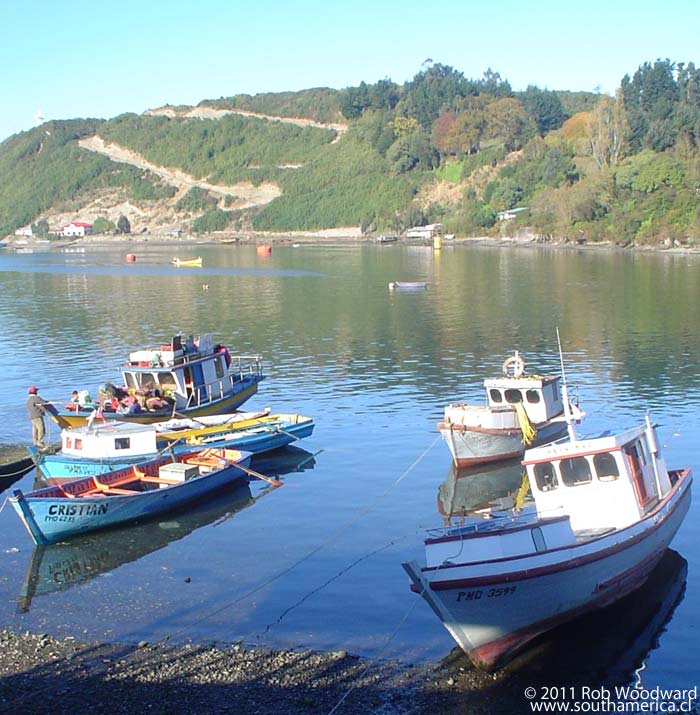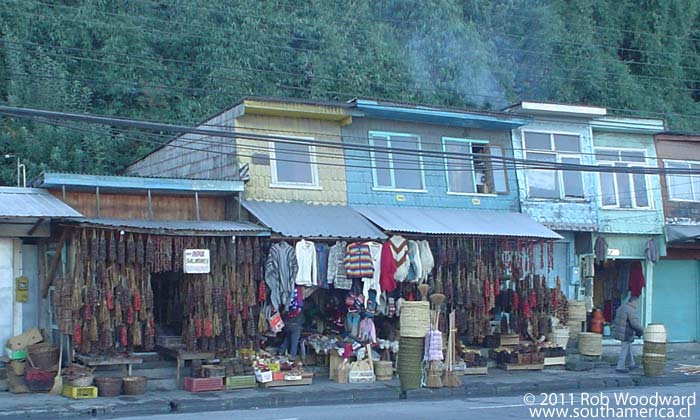 If you found this guide about Angelmó interesting or useful, let others know about it: