Santa Lucia Craft Market
Santiago - Chile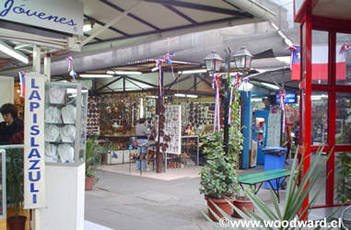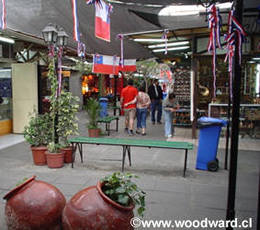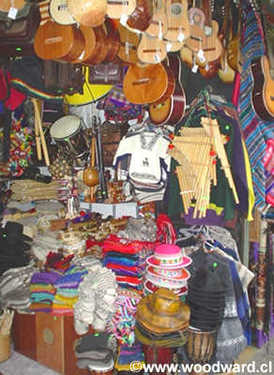 The Cerro Santa Lucia handicraft market is the most traditional place to buy handicraft and souvenirs in Santiago. The craft market can be found on Alameda (the main road) just across the road from the Cerro Santa Lucia Hill.
There are many products sold here that are typical of Chile but you will also see a variety of Peruvian and Bolivian Handicraft. It might pay to ask the shopkeepers where a certain souvenir is made before you buy it. Even if you are not going to buy anything, the craft market is an interesting place to visit.
One product you should keep an eye out for is Lapislazuli. It is a blue semi-precious stone that can only be found in Chile and Afghanistan. Be warned that anything you buy that contains Lapislazuli will NOT be cheap.
If you don't have the cash, you can find plenty of cheap souvenirs starting at a couple of hundred pesos (less that 50 cents).
Musical Instruments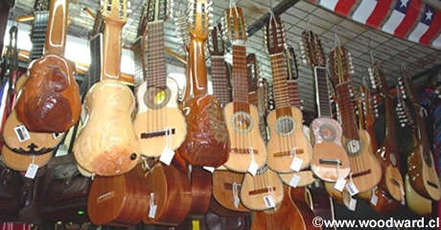 Musicians will love the variety of instruments that can be bought at the Cerro Santa Lucia Market. Guitar enthusiasts may be interested in buying a traditional charango (pictured below)
Charangos - These 10 string miniature guitars are typical of Andean Folklore music. The first ones were made of Armadillo hide. Unfortunately you will still see some of these traditional charangos made out of Armadillo for sale.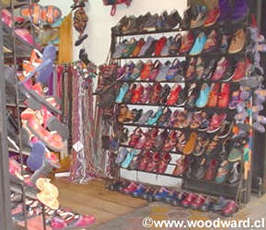 Footwear and Leather Shoes
A Woman's Weakness. A store thta has a large variety of handmade leather shoes and sandals that come in many different colours. Of course, what good is a pair of shoes if you don't have the matching accessories, and purse, and dress, and...
Fortunately, you can get them all at the Santa Lucia Handicraft market.
One of the favourite souvenirs is 'El Indio Pícaro'. It is a hand carved wooden statue of an indian that contains a surprise when you lift it up. What is the surprise? Well, you will have to come to Chile to find out!
If you found this guide to the Santa Lucia Craft Market in Santiago, Chile interesting, share it with others: