Cusco - Cuzco
Peru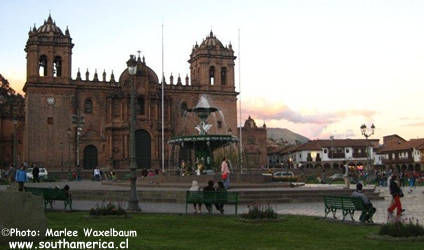 Cusco, which is sometimes spelt Cuzco, is a city on the backpacker's trail that has been well beaten.
The Kathmandu of Peru, Cusco is a world apart from the rest of Peru. While most tourists hurry through onto Machu Picchu directly by train, it is worth taking your time to get to know Cusco and the sacred valley that surrounds it. Spelling variations include Cuzco, Qosqo, or Qusqu. Cusco however, is the official spelling in English.
Unlike the rest of Peru where the people are normally friendly but shy, here at the heart of the Inca trail the people of Cusco have learned to change their tactics. Many people will dress up in their colourful costumes along with their children and a llama and let you take a picture with them, for a price. As one Peruvian woman once told me, she has seen the postcards that are sold in shops, she knows that foreign travelers profit from her poverty, therefore she would like for these travellers to share their wealth that comes from their hardships.
Before going anywhere in Cusco you need to buy your Boleto Turístico that allows you to access all of the sights in and around Cusco. Some places forget to stamp your pass, but in general it is a necessary item for access to the city's treasures.
Purchase the ticket at the Oficina Ejectutiva del Comité (Avenida Sol 103, just off the Plaza de Armas). Make sure you show your ID card if you have one for major discounts.
History
As the legend goes, the city was founded by the first Inca, Manco Capac when he was charged with the task of finding the navel of the earth. There he would be able to strike a golden rod into the ground where it would be swallowed by the ground. It is here in a fertile valley that Cusco was founded. The city grew over time and was the capital of the Incan empire. The Spanish Conquistador Pizarro arrived in 1533.
What to See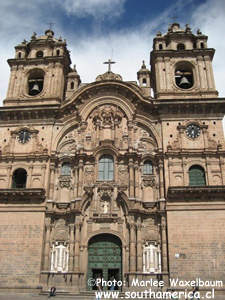 La Catedral - The Cathedral
There is a dominating presence in the Plaza de Armas of massive churches in the colonial style. The Cathedral itself is actually connected to two other churches, Jesús Maria and El Triunfo (the oldest existing church in Cusco). Inside, like most churches of the time, it is dark and filled with statues along the sides where those in need of a prayer can light a candle. Make sure that you take the time to carefully study the painting of the Last Supper, a different interpretation from Da Vinci where the artist Marcos Zapata fills the table with an Andean feast, including guinea pig! The cathedral was built on the site of Inca Viracoca's former palace using cut down rocks from an Inca site in the sacred valley, showing both literal and symbolic dominance.
La Compañía
Originally built by the Jesuits in 1571, it has beautiful baroque facade and is filled with canvases and statues rivalling the beauty of the Cathedral. In fact construction of the church was controversial from the beginning, as traditionally no church should compare to the wonder of the Cathedral, but by the time the Pope's disapproval reached Peru the church was already almost completed. It is located near the Cathedral on the Eastern side of the Plaza de Armas.
12 Sided Stone
This is by no means the most complex cut stone in Incan construction; many corner stones have more than 30 angles. However, it is a truly beautiful testament to Inca architecture. It is easy to find, located on Hatunrumiyoc street, (take Calle Triunfo from the Plaza de Armas) with a small group of locals selling souvenirs nearby.
Museo Inka
The building itself is a massive colonial home that is often referred to as the admiral's house for the previous owner. The real treasures however are the Inca artefacts in Cusco. (It isn't on the boleto turistico). You can find it on the corner of Ataúd and Tucumán a short steep walk from the Plaza de Armas.
San Blas Church
Hike up the steps from Calle Triunfo which later becomes Cuesta San Blas. In the small San Blas plaza you will find this small church which made of adobe. While not as ornate as the other churches in Cusco, there is an incredibly beautiful pulpit carved from wood. On the walk up you can also catch a few good views of the city, although it isn't until you get out of the city that you really begin to take in its overall scale.
Museo de Arte Religiosa
There is a room filled with life sized paintings of Archbishops, although on the whole it isn't a very memorable stop. Open Monday to Saturday, it is part of the boleto turístico. It is located on the walk up to Iglesia San Blas at the corner of Herrajes and Hatunrumiyoc.
Museo Palacio Munipal
This is a small museum containing modern local art, and it is good for a change of pace if you are tired of all the colonial stone buildings. Located at the corner of San Juan de Dios and Santa Teresa at Plaza Regocijo.
Coricancha / Museo Arqueológico Coricancha
This area was once the most important and richest temple of the Inca. The temple walls were all lined with gold and there were life size replicas of corn in gold that were ceremoniously planted for agricultural rituals. The mummies of previous Incas were housed here and taken out each day in the sun and given food offerings that were then burned. However the only thing that remains from the Incas today is one of the 6 metres high curved stone walls, so you will have to use your imagination on your visit. The Spanish conquistadors melted down the gold within months of their arrival. Today the land belongs to the Dominicans and there is a church located on part of the property. Below the courtyard there is a small underground museum. It has both Incan and pre-Incan artefacts. There isn't any one item that stands out, looting has diminished the grandeur that once was, but it is an easy quick stop and part of the boleto turistico.
Sacred Valley
Highly Recommended!!!!
Get up early in the morning and catch a local bus to Pisac. (The ride takes a little less than an hour; it gets crowded). From there you can climb the ruins and go all around on your own exploring. If you prefer you could also take a taxi from Pisac to the top and only climb down, to lighten your hiking time. However going down all those steps is hard on the knees so we're not sure how much this will help. On Tuesdays and Sundays there is a local market. It is divided up between the locals buying and selling produce to a large amount of traditional colourful souvenirs. You'll have a great time haggling here. (Be sure to contemplate not only the price of the item but how much space you have in your already heavy backpack). Enjoy a light lunch at Ulrike's Café before beginning your long walk back to Cusco. All along the way there are several ruins to visit in the sacred valley, almost all of them worth the trip if your legs are willing. Don't worry if you think you can't make it back from Sacsahuamán to Cusco you can always flag down a local bus.
The Pisac ruins are large and warrant two hours of exploration, around the ceremonial baths, the temple and the tombs that were robbed before archaeologists were able to examine them. During the whole hike up, you will make your way through the terracing where a variety of crops once grew.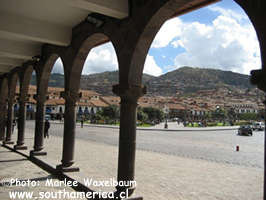 Sacsayhuamán is the last stop on the way back to Cusco, it has both religious and military significance. If Cusco is in the shape of a Puma then this ancient ruin is the head and it's jagged fortifications (also a very effective technique) are the teeth. It once held enough food and water for 5000 warriors. It was fiercely fought over by the Incas and Spaniards. Unfortunately it is one of the most destroyed sights. Because of its proximity to Cusco many of the stones were later used by the Spanish to construct the churches; however you can still see some of the largest stones and the skeleton of what it once was. It is also the location of the Inti Raymi festival on 24 June.
We are big advocates of this!
Getting There and Around
Traveller's tip: Expect delays during the rainy season no matter what type of transportation you take.
Traveller's tip: Street names in Cusco generally change even after only a few blocks. Coupled with the recent change from Spanish to Quechua spellings it can be confusing to get around if you don't have a good up to date map.
By Air
The city's airport is called Aeropuerto Alejamdro Velasco Astete
The airport is located only a few minutes outside of the city and while it is very modern it is also sometimes chaotic. When leaving, we recommend booking the earliest flight of the day so that you don't get stuck in the airport when flights become a no go, and that you arrive very early to confirm your seat. If you are flying in from Lima be sure to try for a seat on the left side of the plane, you will have some fantastic views of the mountain (Right side of the plan on return). Security is an issue, so be sure to pack all of your valuables in your carry on luggage. The airport is only a short taxi ride from the center of the city about 2 km, so getting to and from there shouldn't be a problem.
By Train
There are two train stations in Cusco, but the two are not connected, so be careful that you go the right one!
Estación Huanchac
From here you can catch a train to Puno near Lake Titicaca, or Juliaca a little further out. (From Juliaca you can catch a luxury bus to Puno and cut off some time on your trip). Tickets to Aguas Calientes can be purchased from this train station, but you must catch the train at the other station.
Estación San Pedro
This train station is located next to the Mercado Central on the South side of Cusco. Tourists are unable to take the local train, and must ride in one of the trenes de turismo (tourist trains) to Aguas Calientes. There are two stops along the way, one in Poroy and one in Ollantaytambo. The price for the train is very high but it is the only other way to Machu Picchu other than the Inca trail.
Traveller's tip: You can cut the prices down by taking the local buses to Ollantaytambo and then catching the bus there, it is a fantastic way to have an adventure, although not practical if you are short on time or prefer not to jump into an overcrowded smelly bus where you aren't guaranteed a seat.
By Bus
The bus stations for local trips are separate from the bus station for long distances.
Several companies offer international routes, mainly to La Paz in Bolivia or Arica Chile.
Most buses leaving the city go from Av. Tullumayo (the same road to the airport)
Buses leave frequently to Pisac and Urumbamba, and there are also colectivos (shared taxis) going to Pisac.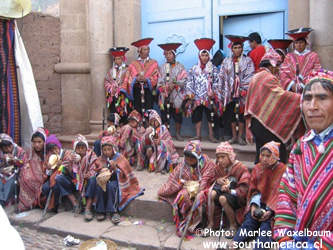 Where to Eat
There are tons of restaurants catering directly to the tourist crowds in Cusco, making it easy to find a hearty meal around every corner. If you are strolling around the Plaza de Armas come dinner time expect to be bombarded with Peruvians holding up the menu in your face and listing off all the top reasons to go to their particular restaurant. When making a decision we recommend that you decide based on the atmosphere and table location. Some of the restaurants located on the second floor offer tables for two facing the window so that you have a spectacular view of the plaza and all the other tourists being talked into other restaurants. It is a very romantic way to end a night of trekking around the sacred valley even if you are still coved in dust.
La Yunta: Located on the corner of the Plaza de Armas, it is a nice coffee shop with many different juices and cakes as well as a full menu.
Ukuku's Restaurant: Good quality for a low budget, it features some beautiful artwork and is a good place to sit back and relax over a warm bowl of soap. (Procuradores 398, on the North end of the street)
Moni: Vegetarians don't have to eat another cheese sandwich... this restaurant offers adapted Peruvian traditional dishes and even a vegetarian curry. Closed on Sundays (San Augstin 311)
Chez Maggy: There are three locations all serving up pizza and pasta for tourists who can't stand another night of guinea pig.
Restaurant El Paititi: A very elegant restaurant, it is situated on the same spot that once held the House of the Chosen women. It is located at Portal Carrizos 270.
Where to Drink
There are a number of bars in Cusco all competing for your patronage. Because they don't have a regular crowd returning to the bars, each night is a new competition with free drink options abounding. A pub night crawl then is actually a cheap way to spend a night. You should never pay a cover to enter a bar in Cusco, instead ask what the free drink deal is!
Norton Rats: A good mixture of people come here, they serve the best burgers in Cusco and there are darts and a pool table. It is generally popular with the American crowd as it is US run. (Calle Loreto 115)
Mystique: Happy hour lasts for five hours here, so there is no reason to go anywhere else! The back wall is an Incan wall so you can sip your cocktail next to history (Suecia 320)
Where to Dance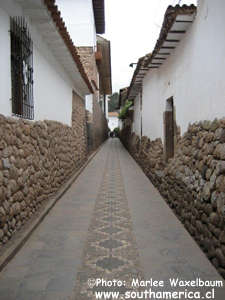 If you still have the energy after trekking all over the place, there are a few small dance clubs in Cusco, although the crowds change nightly so the quality of location can vary every night.
Ukuku's bar: It is one of the most consistently good places as locals also frequent it. It plays a lot of pop and popular reggaeton with a good mix of Spanish and English music. There is a cover charge generally although you can always find a way to talk yourself out of it (Plateros 316)
Mama Africa: This is the place where gringos go to dance, have fun and ease their aching legs with Cuba libres (Rum & Cola). Here you don't need to worry if your salsa skills are a little rusty; you'll fit in great with the crowd and have a good time of it. I tried ordering a drink in Spanish and found the barman apologizing, saying that he was an Aussie who fell in love with Cusco and decided to stay, but had yet to learn a word of Spanish. (Located at Portal de Belén 115)
Where to stay
Hostal Royal Qosco: It isn't so much the luxury of the hostel or the atmosphere, but rather the prime location that makes this hostel a good deal. There is also reliable hot water. (Tecsecocha 2)
Hostal Suecia II: With a friendly staff and a clean colonial style building this place can't be beat. And of course it offers the two most important factors, a good location and hot water. If is often full in the high season (Tecseococha 465)
Residencial Madres Dominicanas: This isn't your traditional hostel, as it is located on the school grounds of Colegio Martín de Porres and is run by Dominican Nuns. You won't find large groups of tourists here to trade tips with, but the breakfast is good, the beds are big and comfortable and there is hot water. Most rooms have their own bathrooms (Ahuacpint 600). Amanda stayed here, (Rate 8 out of 10).
If you found this guide about Cusco in Peru interesting or useful, let others know about it: