Typical Peruvian Food
Peru
Peruvian Food is incredibly diverse with each region and even some cities with their own specialties. Below we have included some of the most traditional and easiest to find in Peru.
Comida Criolla (Creolle Food) is the name given to traditional Peruvian Dishes.
Potatoes
They originated in Peru, so it isn't surprising to find that there are many different varieties here (some estimate over 4000 different types) and they play an important role in the Peruvian staple diet. You will find potatoes served with everything and prepared hundreds of different fascinating ways.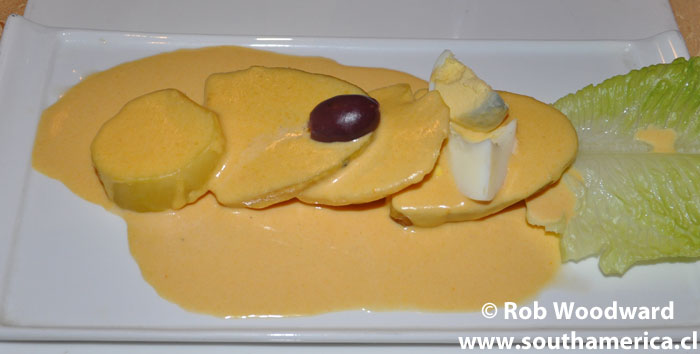 Peruvian Dishes
Papa a la Huancaina: Sliced Boiled Potatoes covered in a cheesy, slightly spicy yellow sauce (which contains Turmeric) served on top of lettuce. This dish is usually garnished with a quarter of a hard-boiled egg and sometimes with olives too. (Photo above)
Anticuchos: Skewered meat (brochettes) that are sold throughout the streets of Peru and of course in restaurants. We recommend that you ask what type of meat it is before ordering one, as the most general kind is called anticucho de corazón, which is marinated beef hearts grilled on a stick.
Lomo Saltado: If you are on diet, we don't recommend this dish. Peruvians take strips of steak and sauté it with soy sauce, vinegar, garlic, chilies, onions and tomatoes. It is then served over a bed of rice with a large helping of chips (french fries). It is often served with a small side of salad too. It is a hearty meal that is served in many of the cheaper restaurants. (See photo below)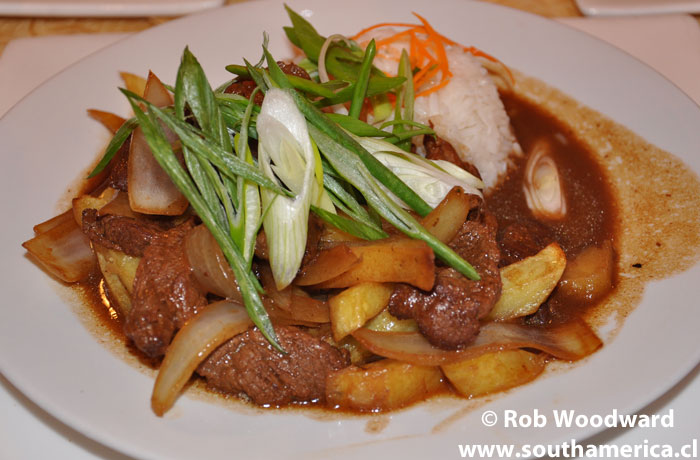 Ceviche: There are many different variations of the dish which can be found in almost every restaurant in Peru. It is generally made with bite size chunks of raw white fish, normally sea bass. The fish is marinated in lemon / lime juice, onions and chilies. Traditionally it is served with boiled sweet potatoes or corn. (Photo below)

Tiradito: is similar to Ceviche though the fish is cut into strips instead of the chunks and it is made without onions giving it a lighter flavour.
Aji de Gallina: Shredded chicken is cooked with a sauce of milk, onions, chilies, garlic, walnuts and cheese. It is served over rice and is a favorite of many Peruvians and tourists alike. (Photo below)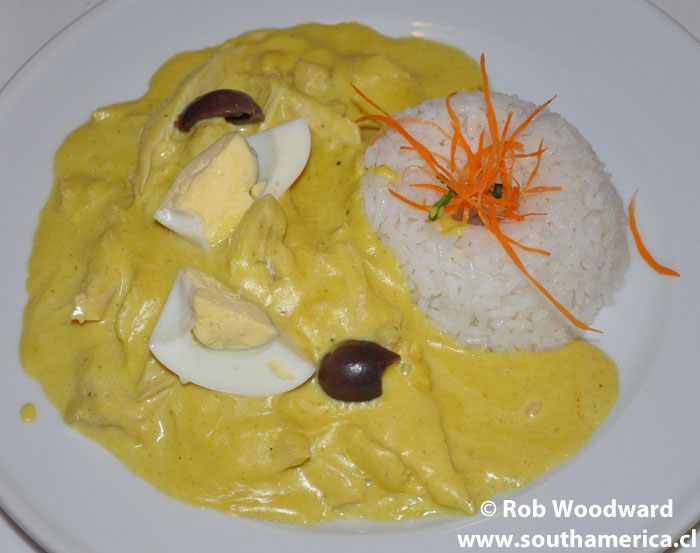 El Chifa: No account of Peruvian food would be complete without mentioning the Asian influence. Chifa refers to the Chinese restaurants and the cuisine. There are several different places that sell fusion dishes as well as a Chinatown in Lima that has a great variety normally on a good budget.
The word Chifa is said to come from the Chinese Mandarin words Chi - Fan which means to eat rice.
Papa Rellena: Basically a variation of your stuffed potato. It is mashed potato rolled into balls or ovals and then stuffed with ground meat and spices. They are then deep fried is the outside is a crispy brown.
Rocoto Relleno: Stuffed Rocoto peppers with a kick (they're a little hot/spicy). They are usually filled with meat, onions, egg whites, olives and sometimes with nuts. This dish originally comes from Arequipa.
Pachamanca: This is a traditional meal that is served almost exclusively for major celebrations, mainly because it takes hours to prepare. A hole is dug in the earth and heated stones are placed in it. The food is a mixture of meats (lamb, pork, chicken, guinea pig), vegetables (potatoes, corn, beans etc) and herbs and is put in sacking or cloth which then slowly cook in their natural juices. It has a similar preparation to Curanto in Chile and the Hangi in New Zealand.
Cuy: Here is where Peruvian cuisine might get a little scary for you. Fried Guinea pig! It was once eaten by Incan royalty and today remains a special food in Peru. While some restaurants serve it cut into small pieces and marinated others prefer a more dramatic presentation. It isn't uncommon to see the entire animal, head, feet and all grilled and served on a platter. Beware of the word Cuy (Guinea Pig) on any menu you see. See our photo of fried Cuy (with teeth and all) in: How would you like your guinea pig served?
Cau Cau: A tripe stew with diced potatoes. It is often accompanied by rice.
Ensalada Pallares: A salad of Peruvian Lima butter beans. The beans are first boiled, and then mixed with tomatoes, chilies, onions, lime juice, vinegar and salt once the beans are cooled. It is a very traditional dish that has lasted for thousands of years, probably because it tastes so good!
Sopa: (Soup) Everywhere you go there is soup, no two restaurants serving the same kind. It seems that whatever is left over for the day goes into the soup, but the results are always very pleasant. It is a common dish to have for breakfast in Peruvian homes.
Escabeche de Pescado: The preparation includes boiled fish, chilies, onions and a whole lot of vinegar. Traditionally this was only a preparation for fish, but today chefs prepare it with chicken or duck.
Peruvian Desserts
Picarones: These look like thin donuts (with a biggish hole in the center) that are not perfectly round. They are a type of pumpkin fritters which are normally served with syrup on top. It is sweet, but not overly so, and it is a filling dessert or snack.
Lucuma: This 'nutty' flavored, orange colored fruit can frequently be found in Peruvian desserts. Peru is the only place in the world that has a large production of the lucuma fruit, although you will also find smaller lucuma farms throughout South America. The most common way to find this unique flavor is in ice-cream.
Mazamorra Morada: This is a purple jelly-like dessert that gets its color from one of its ingredients, maiz morado or purple corn.
Travel tip: It isn't too common to tip in Peru's cheaper restaurants, so if you are eating out (especially off the beaten path) and you want to leave 10% give it directly to the waiter rather than leaving it on the table. In some of the more expensive restaurants the 10% tip is already included.
Travel tip: Of course it is not advisable to drink tap water while in Peru, but travellers with a weak stomach should also be careful when it come to salads since they are normally washed in tap water.
Travel tip: Food in Peru is generally much spicier than in neighbouring countries. So much so that a local restaurant serving traditional dishes is called "picantería". If you are worried about it you can always order your chilies on the side.
Peruvian Drink Guide - From Pisco to Inca Kola
If you found this Typical Peruvian Food Guide interesting or useful, let others know about it: