Typical Food of Ecuador
Ecuadorian Dishes, Meals & Snacks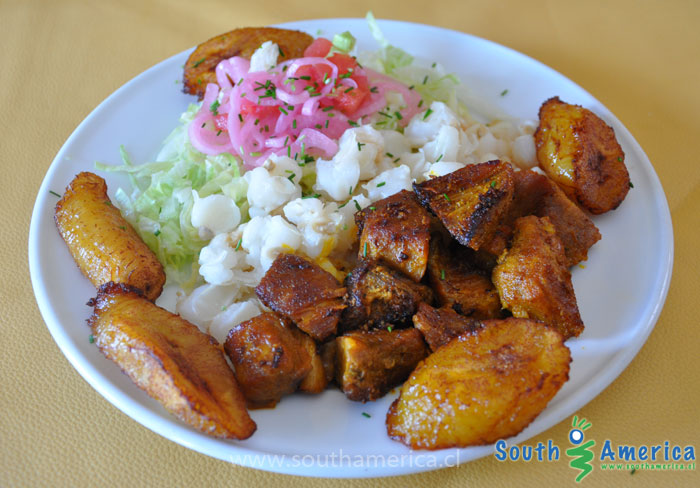 South American food can have some similarities. Ecuador enjoys putting its own twist on South American favorites, as well as making some pretty unique dishes of its own.
Ecuadorian Dishes on the coast normally contain seafood whereas up in the Andean region you will find more meat, rice and potatoes. Soups seem to be popular everywhere.
While in Ecuador you should take advantage of the large variety of fresh fruit that is available including the local naranjilla which has a flavor described as a cross between rhubarb and lime and also try the typical guanabana.
It seems that whenever anyone mentions Ecuadorian food, the typical Cuy (guinea pig) dish usually comes up. However there is more than your friendly pet to be eaten in Ecuador:
Appetizers and Street Food
Ceviche – a typical seafood dish along the west coast of South America, ceviche is raw seafood (and shellfish) marinated in citric juice (often lime or lemon). Look out for the ceviche carts down by the beach or try my extravagant ceviche at a local restaurant.
Cevichochos – a vegetarian ceviche of chocho beans (native to Ecuador and very nutritious), tomato, onion, coriander, salt, lime and optional hot sauce. Topped with roasted corn or plantain chips.
Choclo – roasted kernels of (large local Andean) corn that are a crunchy snack.
Churo – tiny sea snails served in a bag and topped with diced onions, coriander and lime.
Empanadas – small baked or fried pastries with filling. Coastal empanadas are made of plantain and filled with cheese, beef or shrimp.
Empanada de morocho - are empanadas made of corn and filled with rice, peas and beef and deep fried.
Empanadas de viento – empanadas that are made of regular flour, filled with cheese and served with sugar sprinkled on top.
Melcocha – a chewy candy (famous in the Baños region)
Pan de Yuca – yuca root and cheese bread. In the rainforest, it is grated and made into a tortilla. Elsewhere, it is the size of donut holes and served hot and toasty with a chewy inside.
Patacones – Fried green plantains (a type of banana that isn't so sweet) squashed into thick pancakes.
Pinchos – meat, potato and vegetable kebabs very popular with commuters on busy street corners.
Salchipapas – a quick snack/meal of fried sausages (typically hotdog frankfurters) and French fries served with ketchup, mayo and sometimes, hot chili sauce. Served in a bag with a skewer for eating on the go.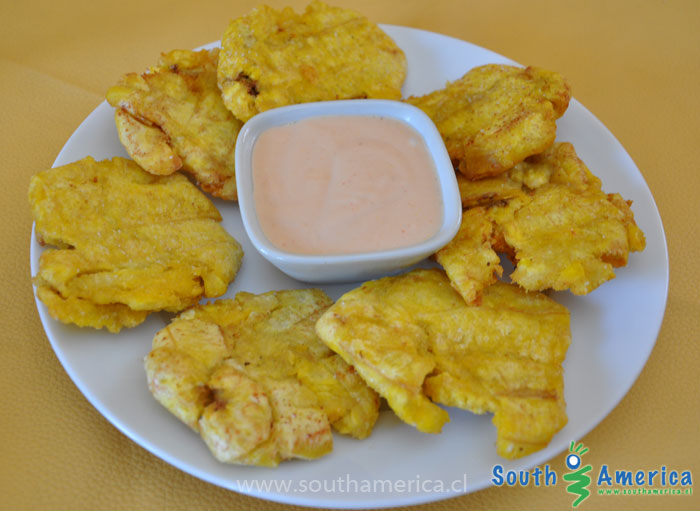 Ecuadorian Soups and Stews
Locro de Papas – creamy potato soup garnished with cheese, avocado and hot sauce.
Fanesca – soup of bacalao (salt cod), figleaf gourd, pumpkin, chochos, lupines, fava beans, lentils, peas, corn and more (a total of 12 beans and grains). Usually garnished with hard boiled eggs, fried plantains and parsley.
Guatitas – cow stomach (tripe) stew accompanied by potatoes and peanut sauce.
Librillo – tripe, often served with rice.
Seco de Chivo – goat stew
Seco de Pollo – chicken stew that includes onions, garlic, peppers, tomatos, chicha (fermented corn beverage that can be substituted with beer) and spices. Served with yellow rice and sweet fried plantains.
Sopa de Bolas de Verde – soup made of plantain dumplings stuffed with meat and vegetables and served in a beef broth with corn and yuca.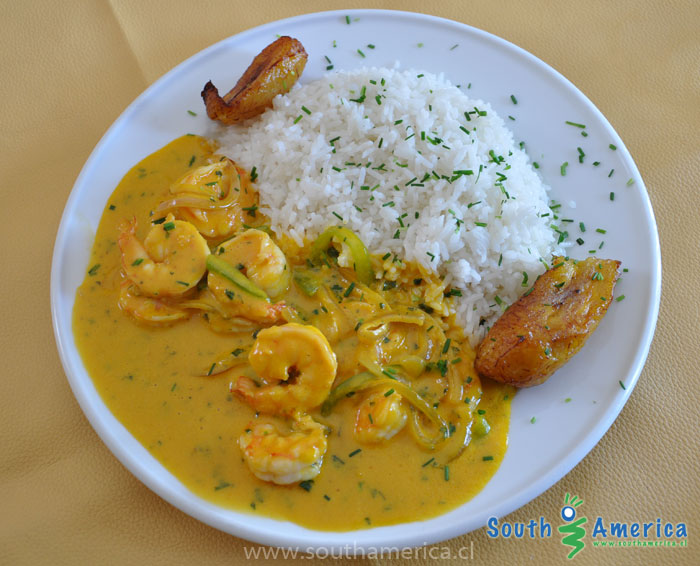 Main Dishes and Typical Meals
If something is Encocado then it means it is served in a coconut sauce.
Choclo con queso – Andean corn (large kernels) and cheese, served alongside hearty beans.
Churrasco – thinly sliced grilled steak (sometimes marinated in chimichurri sauce), topped with a fried egg and served with white rice, plantains, french fries, avocado, a salad, and hot sauce.
Cuy – Guinea pig, yes the same type that some western kids keep as pets. They may be fried, baked, roasted or stewed. The most popular preparation is to rub the cuy with spices and roast it on a rotisserie. It is served with potatos, hominy and salad. Note, there isn't much meat on it though you are welcome to delve into the brain or other parts. And as for the flavor, well, like most things, it tastes like chicken.
Encocado de Camarones - Prawns in coconut milk sauce, often served with rice on the side.
Fritada – pork cooked in spiced water and then fried in pork fat. Served along with llapingachos, boiled potatos, corn, sweet fried plantains, and pickled onions and tomato.
Hornado – roast pig accompanied by llapingachos, choclo (Andean corn) and vegetables.
Humitas/Tamales – fresh ground corn dough filled with onions, eggs, cheese, pork, chicken or raisins, wrapped in a corn husk or canna leaves and steamed.
Langostinos – Ecuadorian Prawns… YUM!
Llapingachos – a cheese-filled fried potato patty topped with a fried egg. Served alongside cheese, avocado and a serving of beef, pork or sausage.
Lomo Saltado - thin strips of beef cooked with onions, tomato, onion and sometimes slices of bell pepper. (Sometimes it's called Lomo salteado)
Menestras – Lentil stew
Mote Pillo – hominy (mote) sautéed with onions, garlic, achiote, eggs, milk, chives, and coriander or parsley. Served with coffee and cheese.
Typical Drinks and Beverages from Ecuador
Aguardiente – a sugar cane spirit that is very popular in Ecuador.
Canelazo – a warm / hot beverage often made with fruit juice such as naranjilla, mora (blackberry) or maracuya juice, cane sugar and water boiled with cinnamon. Sugar cane alcohol is frequently added.
Chicha – a fermented or non-fermented maize (corn) beverage. It can also be made of quinoa, grape, apple, or various other fruits. In the highlands, there are 30 varieties of maize chicha.
Morocho - a sweet and hearty drink made of morocho (dried, cracked corn kernels), milk, cinnamon, sugar and raisins.
Rompope / Ponche de Leche – hot or cold beverage popular during holidays made of milk, sugar, vanilla, orange peel, egg yolks, condensed milk, cream and sugar cane alcohol. Can be served without alcohol.
More Photos of Ecuadorian Food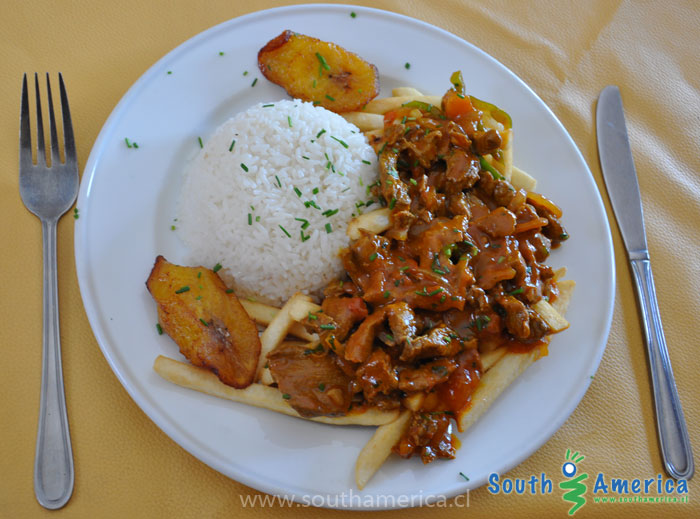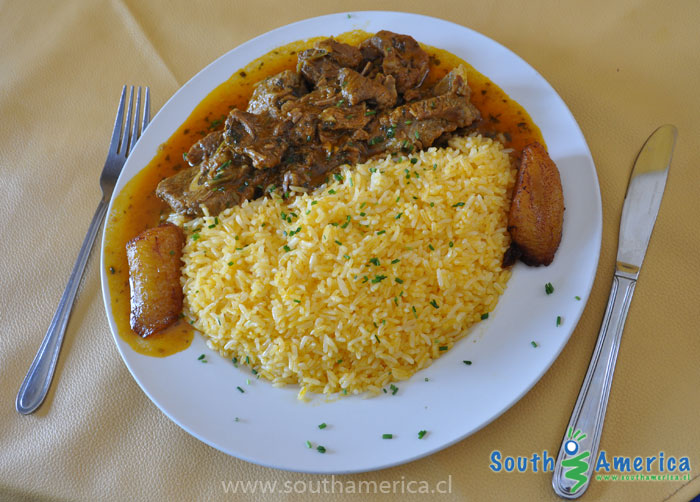 Next Activity
Try our interactive game about Typical Ecuadorian Food. How many dishes can you get correct?
If you found this guide about the Typical Food of Ecuador interesting or useful, let others know about it: