The Galapagos Islands
Ecuador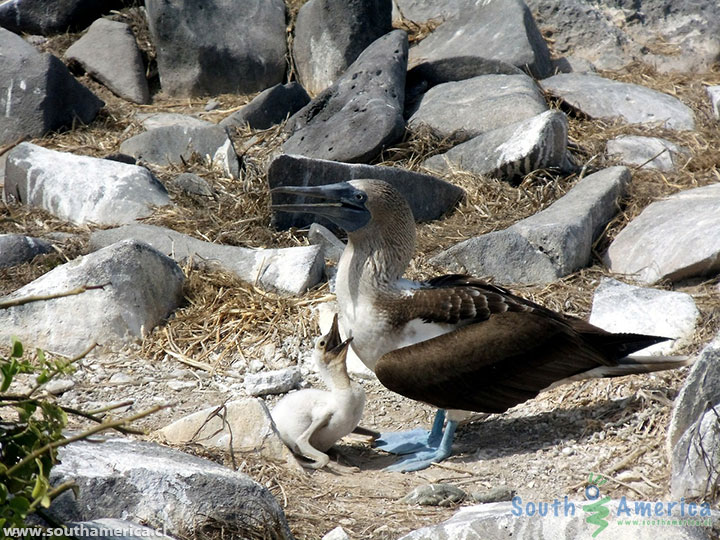 The Galapagos Islands (or Islas Galápagos in Spanish) are an archipelago about 965km west of Ecuador. They are famous for the vast number of species that are unique in the world and the studies that Charles Darwin made here in 1835 which influenced his theory about evolution.
Most of the amazing sights of the Galapagos Islands are reached by boat, so many trips involve a week of sleeping on a boat or traveling around to the different islands.
A simple day trip from one island to another is simply not worth it. You will send too much time in route and will not able to thoroughly enjoy the island, and generally the guides are not nearly as well informed as those on the longer trips.
Tours
Arranging your tour once there during the off season is much cheaper, but even then you will need to be flexible in your schedule, which can be difficult. Sometimes some of the more expensive tours will let you on to fill up a boat for a cheaper price, but you really need to bargain here. You can also book tours in Quito or Guayaquil.
You have the option of three different levels with most tours; economy, tourist and luxury. Most guides for the economy level do no speak much English. Generally speaking, the more expensive your tour is the more knowledgeable the guide, both in English and Galapagos ecology. Find out what kind of guide you have before booking, a Naturalist III guide has a degree in biology while a Naturalist II guide is more of a park ranger making sure that you stay on the provided trails.
Make sure you have the itinerary in writing before you hand over your money. Tours often change and this will give you some bargaining power.
Park fees are generally not included, so be sure you ask.
You need to remember that you are staying on a boat during this time, so privacy is sometimes an issue and the showers are not your standard tiled room with hot water.
Traveler's Tip: Try bringing a lot of your own bottled water. Often the boats charge a lot for bottled drinks as once you are on the tour they have a monopoly and this price is not included in the full tour package.
Traveler's Tip: When you plan for a trip remember that tips are not factored in and are a standard for every guide. A week's travels should be about 20$USD per passenger.
Traveling Alone
It is possible to visit some of the islands independently. This however will not be a cheaper alternative, simply a different one.
You will be able to explore these islands in a more in depth way, but of course you can not see all the islands and therefore miss out on a lot of the wildlife. This is only advisable if you have three weeks or more and during the low season when hotels aren't fully booked.
Things you can do on your own (no guide needed):
Charles Darwin Research Station: located outside of Puerto Ayora (20 min walk) here you can see the baby tortoises that they keep in a nursery, and you can walk around with the giant one face to face. There is also a museum and information center.
Bahía Tortuga: a white sandy beach with flamingos, pelicans, iguanas and sharks to keep you company. Don't worry, the current is more of a hazard than the sharks.
Bellavista: just a couple of kilometers outside of this small town (which has no hotels) there are caves and tunnels where lava once flowed and you can walk inside with your flashlight and see the way the lava once formed.
Galapagos Islands Weather
The warmest time to go to the Galapagos Islands is from early December to late May. Unfortunately it is also the "rainy" season where you will come across heavy rain followed by (sometimes long) sunny periods with clear skies. The rest of the year it is often overcast with the odd light drizzle here and there.
More Tips
Traveler's Tip: Make sure you keep your camera, passport and other important gear in a watertight bag, especially when getting on and off the boat, as generally you will need to wade through the water and the algae covered rocks can be a very slippery way to go.
Traveler's Tip: Everything is more expensive here! Be sure you plan for inflated prices, as everything here needs to be brought over from the mainland.
Fun Fact: The islands were never connected to the mainland. They actually have emerged from the water over a million years individually. It truly is a land unlike any other.
If you found this guide about the Galapagos Islands interesting or useful, let others know about it: