Quito
Ecuador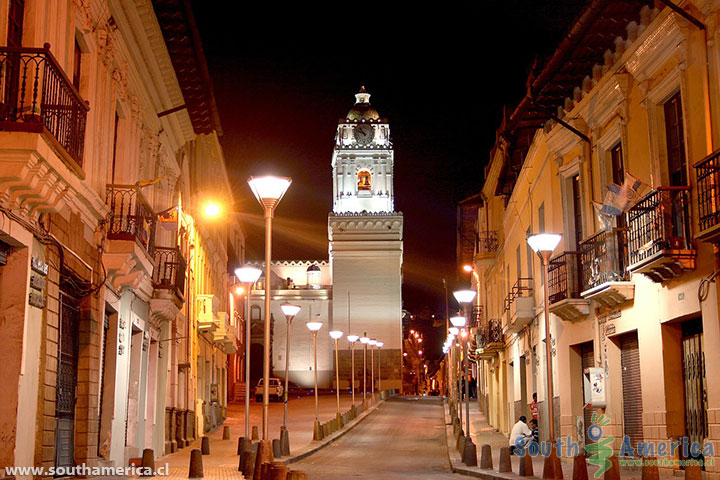 Quito, Ecuador's capital city, makes for a nice change with a more relaxed feel and safer atmosphere than other major cities. It is the sort of place you can find yourself staying longer than planned.
While the old city itself has a few churches and plazas that can be visited in a day, there are also a few excursions to and around Quito worth checking out.
Money Tip
If withdrawing money in Ecuador (as its currency is the US Dollar) that you plan to take with you to exchange in other countries, make sure to get new bills since older looking notes can be hard to exchange outside of Ecuador.
What to do in Quito
Iglesia de la Merced
This church, situated on the corner of Chile and Cuenca streets, was built in honor of the Virgin Mary in hope that she would protect the city from eruptions of a nearby volcano.
Visiting the Equator - Mitad Del Mundo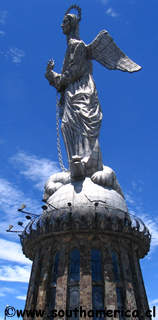 The bus from Quito drops you outside Mitad del Mundo which looks much like an amusement park entrance. Here you have two choices for standing at the equator, you can visit Mitad del Mundo or the Museo Solar Inti Na, both claim that they run along the equator, Mitad del Mundo is definitely not on it being some 0.7 off while Museo Solar Inti Nan is supposedly only 0.2 off. Mitad del Mundo is the official site and you need to pay $2 to get in and you can wonder around and take a photo of yourself on the "equator". You have to pay extra for the other attractions and they are pretty standard fare with the museum having a lot of information on the different indigenous groups of people within Ecuador, but is dry and boring. The quirky and informative Museo Solar Inti displays local houses and explains the different cultures of Ecuador which is a lot more fun and hands-on. They also explain what effects the equator has on the Earth and demonstrate this with fun activities for you that can be only performed at the "equator". Museo Solar Inti Nan is up the road from Mitad del Mundo so just continue about 300m up the road where the bus dropped you off and you will find it on the left hand side.
If you are planning a walk around the colonial old town in the morning and a visit to the Mitad del Mundo in the afternoon a good detour is to get a taxi up to La Virgen de Quito from the city centre for great views overlooking Quito city and the surrounding area. Do not pay more than $2.50; some taxi's will try for $5 one way but don't get conned. You can also walk up but there are mixed reports on just how safe this is. The bus that runs past La Virgen de Quito will take you straight to Mitad del Mundo for $0.30. If a trip up to La Virgen de Quito is not your thing, pink buses run from Av America marked Mitad del Mundo and the trip takes about 45mins - 1hr either way.
Visiting the Prison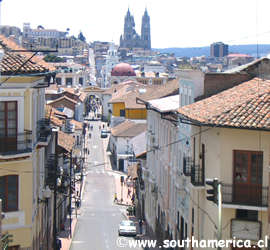 Ever wanted to visit a prison then Quito is the place to do it! You can visit the prison just west up the hill of the old town on Wednesday, Saturday and Sunday between 1pm - 3pm.
Your excuse is to visit the foreigners that are currently staying in Quito on invitation of the courts. It is expected that you take them something, food is a good idea (alcohol is a big NO NO) as most cook their own food due to the terrible food they normally get served.
Do not take anything of value and leave your favorite hat and belt at the hostel since it is unlikely these will be still hanging on the rail you left them on when you get back from your visit. (Unless you want to spend the rest of the day pulling up your pants and then the rest of your trip using your camera strap as your belt).
When you get to the gate tell the guard you are there to visit "foreigner X" (the hostel will have the name of some of the foreigners currently serving time there). You will need your passport to show the prison guards when you enter, who then stamp your arm to identify you are a visitor not a prisoner, they will keep your passport and return it once you leave. This acts as extra security so that you will still be allowed out just in case your stamp rubs off during your visit.
Once inside the prison a local prisoner will be willingly to show you to the cell of the person you are there to see. Many of the foreign inmates are very friendly and willing to talk to you about their experiences since they like the company and distraction from prison life. It is a great opportunity to see inside a prison though it is extremely tame from the ideas you have about visiting one, especially when you see children walking around with rabbits visiting their fathers. You may even feel a little freaked by just how comfortable you feel inside. For more up to date information on prison visits, there should be information at El Centro del Mundo hostel or ask on arrival.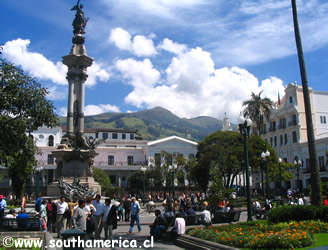 Where to Stay
If staying in Quito and looking for night life is your thing, the new town is where you want to be with heaps of gringo hostels and plenty of night clubs close together allowing you to party all night long (do not ask where as I can barely remember leaving the hostels, after the first rounds of drinks). A place of recommendation and a party hostel is El Centro del Mundo with 12 litres of free Rum and Cola on Mondays, Wednesdays and Friday nights makes this a great party hostel. Not only that, but it possibly has the best notice board ever on what to do in Quito and its friendly staff makes it a great option. (L Garcia E722) By the way, it has good hot water showers though breakfast is not included.
Where to Eat
Café Quiteño Libre: This café is located in the cellar of a great old hotel, Hotel San Francisco de Quito. The restaurant carries over the great colonial architecture and is a good spot for lunch. (Sucre 217, in old town near the Cathedral).
Heladería San Agustín: Handmade ice cream. Delicious! (Guayaquil 1053)
Magic Bean: A must for breakfast in New Town, it serves good hot coffee and large portions, enough to keep you happy if you need to skip lunch on the road. It is a bit expensive though. (In the heart of New Town, four blocks from the trolley stop Manuel Cañizares, Foch 681).
Boca del Lobo: Chances are it will be out of fashion soon, but for now it is a trendy spot serving up unique dishes you won't find anywhere else in Quito. It is great if you are going out for the night! (J Calamá 329) if it is too crowded you could continue down the street to Siam for Thai cuisine (J Calamá E5-10) or El Maple for vegetarian. (the corner of J Calamá and JL Mera).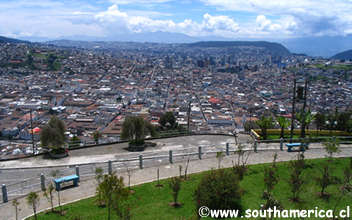 Getting There and Around
Walking around during the day is very safe in Quito especially between the old and new cities and it is a no cost way of getting around. It also lets you wear off some of those pounds you have been putting on and allows you to explore the city more at your own pace.
The airport is located just 10km north of the city center and it is easy to catch a bus to and from there and the main tourists areas. Of course waiting for a bus to come by if you need to catch a flight at a certain time is not the best way to go. The airport is very important and has lots of international flights all around South America and elsewhere, with prices varying little between airlines.
Train:
The only train that goes from Quito runs to the Parque Nacional Cotopaxi. Tourists can board the train in the morning spend about two hours having a picnic or hiking around and then return to Quito the way they came. The train only runs on the weekends.
Buses: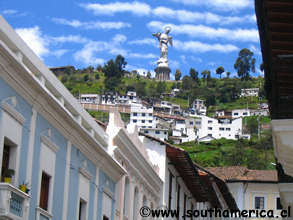 Around the city there are two options, the blue buses that are a little bit cheaper or the red ones that don't allow passengers to stand in the aisles. On both buses the route is listed in the window with major streets indicated. Feel free to ask the bus driver if you are on the right one and if not, they are generally helpful at telling you how to get where you want to go. Traffic is continually heavy in old town so it might not be worth it to hop on a bus or taxi as you can often walk there faster.
If you are leaving or entering the city at night by bus don't walk outside the station alone. Ask for a taxi to drop you inside the passenger drop off area, it is worth the extra few pennies. Buses leave from the Terminal Terfestre Cunandá to go all over the country though you should book ahead of time if you are traveling during a holiday season or on a Friday evening.
The Panamerica bus company have their own office in the New Town on Av Cristobal Colon a few blocks from where most of the Hostels are located. Buses run from and to most parts of Ecuador and offer a good comfortable service at competitive rates and are handy for getting buses that run at night.
Trolley:
Better than a metro/subway you can ride the safe and efficient trolley and still be able to look out at the city around you. The trolley is almost always over packed so you'll have to fight for elbow room.
Taxis:
Depending on where you are going taxis are a good option to get around, and can be hired for an hour or two or even the whole day. If you do this you need to agree to a price before heading off.
If you found this guide about Quito, Ecuador interesting or useful, let others know about it: