Bogotá
Colombia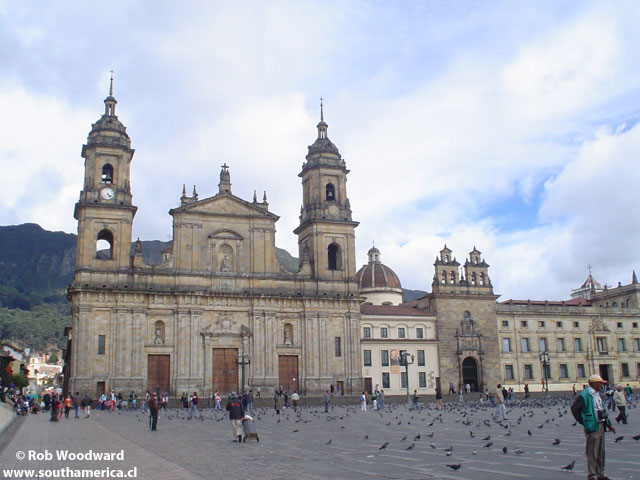 Bogotá is the capital of Colombia and for some, is a city lost in transition between that of the developed world and one that is still hanging on to times past and plights of poorer urban centers. It has everything that a western city has to offer but in true Latin America in half heartedly done fashion. If you like cities and the urban sprawl than you will find things to keep you occupied for a few days in Bogotá.
History
Founded in 1538 by Gonzalo Jimenez de Quesada it was originally named Santa Fe De Bogotá. It was shortened to Bogotá after Colombia gained independence from Spain in 1819. With the Constitution of 1991, Bogotá was confirmed as the Capital of Colombia acquiring the name "Santa Fe de Bogotá", this was short lived with the name being officially changed back to Bogotá before long. Bogotá and its metropolitan area, which includes municipalities such as Chía, Cota, Soacha, Cajicá and La Calera, had an estimated population of 8 million. Bogotá has experienced much of its growth as a city since the expansion of industrialization in the 1940s which encouraged agricultural peasants to Bogotá in search of work.
What to see and do in Bogotá
The old city centre is relatively small and may lack the appeal of cities elsewhere in South America that have retained their colonial centers. The main square, Plaza de Bolivar, is worth a visit as are the governmental buildings along Carrera 7. There is the Museo del Oro to visit which displays one of the most arguably important collections of gold-pieces in the world with some 34,000 pieces from the major pre-Hispanic cultures of Colombia. It literally is a shining point in the city and is rich in artifacts. The other museums house your typical museum paintings and collections of historical artifacts, if you are interested.

Bogotá is full of different options when it comes to viewing churches.
Catedral Primada (Cathedral) is located on Plaza de Bolivar with its side chapel, Capilla del Sagrario. The chapel is the only colonial building still standing around the plaza. Across the street from there is Iglesia San Ignacio filled with beautiful religious art.
Only a few blocks from there is Iglesia Concepción with the Mudejar vault on Carrera 9.
One of my favorites is Iglesia del Carmen on the corner of Calle 8 and Carrera 5.
Further to the North is Iglesia San Diego near Parque de la Independencia, it has a charm unlike many of the other churches in the city.
If you are here on Sunday be sure that you go to the Mercado de San Alejo. It is a flea market with people selling everything imaginable. (Carrea 7 with Calle 24)
Museo Nacional is a must see if you want to learn about the history of Colombia. It is filled with all kinds of artifacts and documents, even a few mummified bodies!
Open Tuesday to Sunday, 10am - 5.30pm, closing two hours early on Sunday. (Carrera 7 No 28-66, north of of Parque de la Independencia)
Maloka is a really fun experience if you are traveling with children. It is an interactive center and museum. It demonstrates subjects from the human body, to biodiversity, and just how big the universe is. It is out of the way and is difficult to get to though may be worth the effort to get there.
(Open Tuesday to Sunday 9am - 6pm Carrera 68D No 40A-51).
Cerro de Monserrate is a necessary trip up a mountain to overlook the entire city. You can climb up on foot, take a railway or a cable car to the top where there is a church and a statue of The Fallen Christ, or Señor Caído. Several miracles have been attributed to the statue and now pilgrims flock there on Sundays. Be warned that walking up the mountain could likely lead you to getting robbed. Try walking up only on Sundays when you can blend in with the rest of the pilgrims. Also be sure not to walk to the base of the mountain either, but rather take a bus marked "funicular" or a taxi.
Plaza de Toros de Santamaría may not be every traveler's cup of tea. During January and February on Sundays you can come here to watch the bullfights. Seat prices vary greatly depending on your views. This art has survived for generations, having been brought over by the Spanish. It is generally more popular in the countryside. (The corner of Carrera 6 and Calle 27)
If you are in Bogotá over the weekend and you want to hang out with the locals you will find a lot of going on in the plaza west along Av. Jimenez, with the locals buying up bargains, enjoying the street performers and eating in the cheap restaurants surrounding the plaza.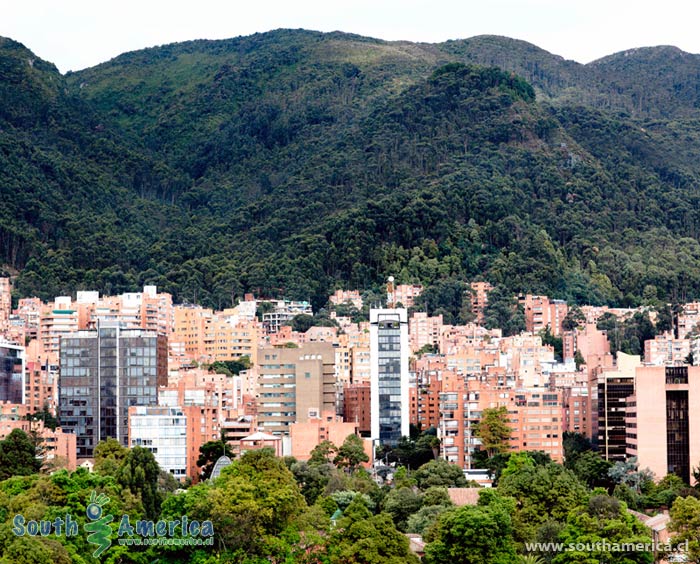 Where to Stay
If you arrive via bus and have not got your accommodation hooked up, the tourist office located in the bus terminal is the go to place before attempting to trod around the streets. They will find out what is on offer and reserve you a bedroom for no charge.
The Cranky Croc Hostel: A backpacker's hostel in the historic center of Bogotá. It is in a remodelled colonial house with outdoor patios. It's one of the most recommended hostels in Bogotá
Address: Calle 12d No.3-46, La Candelaria
Masaya Bogota Hostel:This hostel is at the heart of La Candelaria, Bogota's cultural quarter and is an ideal base for exploring the city.
Address: Carrera 2 No. 12 48, La Candelaria
Platypus: The first gringo hostel to open up in Bogotá, it is still basic but offers what you need in a hostel.
Address: Calle 16 No 2-43
Hotel Aragon: It is great if you are on a budget, being the cheapest hotel around. (Carrera 3 No 14-13)
Hotel Internacional: If the others are full and you want a room with a TV and a private bathroom it is a good basic option. The water is hot. (Carrera 5 No 14-45)
Albergue Hosteling International: Offers up cheap dorm beds with limited hot water, but it is possibly the cheapest deal in town if you are a HI member. It is away from the rest of the cheapies at the south end of the Plaza de Bolivar. (Carrera 7 No 6-10)
Where to Eat
If staying in a place near Av. Jimenez, you have a great selection of places to eat from cheap little diners and fast food chicken outlets to the slightly more up market restaurants.
For a great ice-cream the Café on the corner of Av Jimenez and Calle 15 is worth a visit with great flavors to sample first, if it is late it may look closed but the downstairs area is probably still open.
Try starting out the day with breakfast at Pasteleria Florida, or stop in for chocolates and other sweets. (Carrera 7 No 21-46). Just two blocks south on Calle 20 across the street from Iglesia de la Nieves is the Vegetarian place called Restaurante Vegetariano Nuevos Horizontes.
About 45 minutes outside of Bogotá es the famous Andrés Carne de Res (See our experience of it with photos).
Getting There and Away
The bus terminal is really clean and safe with a variety of food options if you have to wait here for an hour or so for your bus. The main destinations in Colombia have a couple of bus companies running night routes to choose from so be prepared to bargain for a reduced price.
One day trip from Bogotá that Rob highly recommends is to the underground cathedral made entirely out of Salt. See more here: Zipaquira - Catedral del Sal (Salt Cathedral)
Safety
Many have stereotyped the city as an unsafe place to be, both for those living in Bogotá or just passing through. Fortunately security in the city has increased notably over the last years though you still need to have your wits about you and be careful. In the area where I stayed I felt safe though I did of course hear some not-so-nice stories and was told to avoid the centre at night (though isn't that the same advice you get with many big cities?).
An interesting fact is that Bogotá has a lower murder rate than Caracas (Venezuela), Sao Paulo and Rio de Janeiro (Brazil), Mexico City and Panama City.
One thing that surprised me was the guard and his trained dog at the entrance of the hotel I stayed at. At first I thought it was because someone important was staying there but since they were still there over the next days I discovered that this is a part of life everyday life and the dog was there to sniff out any explosives. Also soldiers that were standing on some of the corners had some huge intimidating weapons that would make people think twice about causing trouble.
Random Facts
Bogotá has the world's largest bicycling network – the Ciclovía, which covers over 350 kilometers.
On the first Thursday of February every year, Bogotá has a "Day without Cars" where no private cars are allowed on the streets of the city between 6.30am and 7.30pm. Public transport and taxis are still available on that day.
If you found this guide about Bogotá in Colombia interesting or useful, let others know about it: