Cartagena
Colombia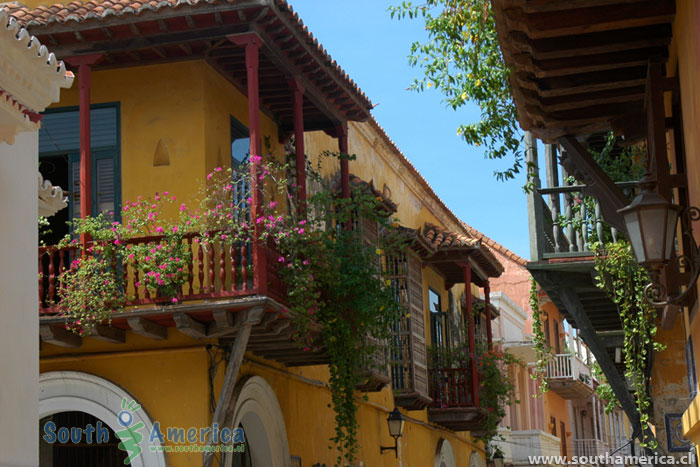 History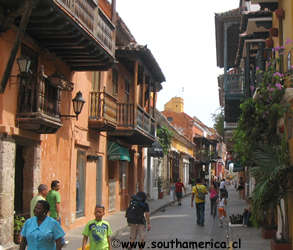 Cartagena is one of Colombia's holiday destinations on the northern coast of the Caribbean Sea. It was founded in 1533 and rapidly expanded as a pivotal Spanish port for the shipping of plundered treasures from the Indians. This of course saw it become a lucrative target for pirates of the day. In response, the Spaniards built huge stone wall fortifications constructed from coral and rock around the port city. Today, due to the fortification, much of the old city has been well preserved with urban expansion taking place outside the old stone walls and it is this reason that it is heralded as the finest Colonial city in Colombia.
What to See and Do in Cartagena
Roam around the Old City: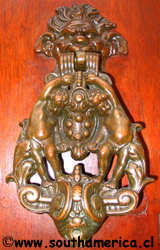 The old city is the principle attraction and makes for a great place to spend a couple of days wondering the streets and hanging out in the Plazas admiring the architecture, watching people and enjoying a coffee in one of the many cafes. The plaza next to Iglesia de Santa Domingo (church) is notable, especially on weekend nights when you can often catch street performers in the plaza.
The weekends are definitely a better time to wonder the streets, when wealthy Colombians enjoy the relaxed ambience of the city by drinking coffee and cocktails in the multitude of cafes and bars tucked away all around the old city.
While wondering the street take note of the huge doorways that lead into private houses and the beautiful private courtyards that are hidden within. Of extra note are the multitudes of styles of door knockers ranging from distorted human faces, iguanas and seahorses which adorn the doorways.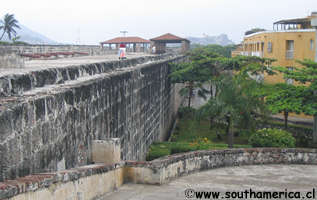 Castillo de San Felipe de Barajas:
If planning a trip to Castillo (Castle) de San Felipe de Barajas take note that there is a significant lack of information offered at the Castillo that leaves some feeling somewhat let down by the experience after walking through the impressive and complex tunnel system of the Castillo, with no knowledge of what they just experienced. Guides however can be hired for a fee.
The Beach: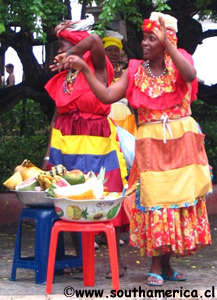 The beaches that surround Cartagena are second rate especially if you are from a country blessed with beautiful beaches (says the Kiwi) or have come from Central America on one of the yachts. La Boquilla is noted in books as a fishing village but resembles something more akin to a beachside slum; back towards Cartagena the same beach was nicer with nearby restaurants serving fresh seafood and cold drinks. Beware that to sit in the hammocks to enjoy a drink is not cheap, but if you buy a meal from the restaurant it entitles you to the hammock for the entire day at no extra cost.
While here beware of the bucket touting rock oyster and shrimp merchants. They often offer a couple of 'free' samples but ask for money for the samples be firm in saying that they offered them to you, you did not request them. To avoid problems from the start just say 'No me interesa' (I'm not interested).
Nightlife in Cartagena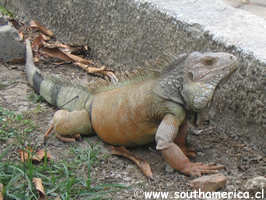 Going out in Cartagena you will notice the number of well-to-do Colombians out enjoying the late night atmosphere, especially along Av. del Arsenal which is popular with tourists and offers a range of bars and night clubs. Even sitting outside the bars drinking cold beer from the cheaper street vendors watching the procession of Colombians walking the street can be a good way to get talking to a few of the locals. Keep your ear to the ground: there are rumors of better bars in the suburbs near the malls. Local town knowledge is a necessity for this venture (so you don't end up in unsafe areas) and look out for the party buses which offer music and unlimited alcohol.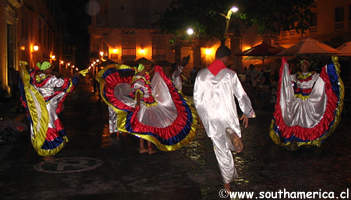 Where to Stay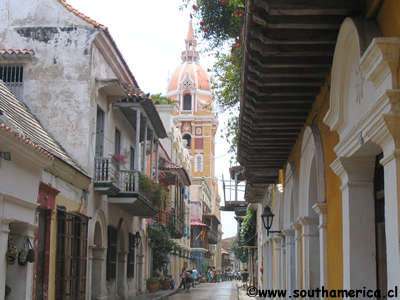 Cartagena can get packed with Colombian tourists from larger cities in the south during public holidays, so if you are arriving late at night and don't want the problems of finding accommodation, booking ahead is not as stupid as you think. There are a stack of cheap hostels and hotels in the vicinity of Calle San Andres and Calle de la Media Luna all within a few hundred meters walk.
There are three main hangouts:
Casa Viena: tends to be a favourite as it offers a range of facilities typically for the weary traveller, though you can feel a little cramped when you enter as everything seems to be packed in one space.
Hotel Holiday: offers 13 basic but tidy rooms with bathrooms; it has a communal lounge and large courtyard which the rooms come off, to hang out. It makes for a social and spacious environment.
Hotel Doral: has a large courtyard filled with potted plants with a jungle appeal and a spacious 'go chill out' feel. The rooms are large but the drawback is they could do with some colour and fixing up and the beds do not look all that comfortable.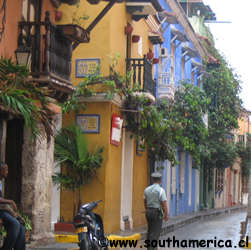 Hotel Marlin: located on Calle de la Media Luna is ever so slightly more costly, but it offers clean well maintained rooms for two people single or double beds that are substantially better than others on offer at cheaper hostels in the area. With private bathrooms and TVs it is a good place to crash out if you are staying in Cartagena for a few days. Make sure you ask for a room with a window!
Hotel Bahia: they offer a good location, five minutes walk from the walled city and right by the beach. There is 24 hour check in and breakfast is included. (Cerra 4a called 4 Bocagrande)
Hotel de Caribe: If you are looking to spend some big bucks and got out in fashion, this is the place to stay. It is a at Carrera 1, 2-87.
Where to Eat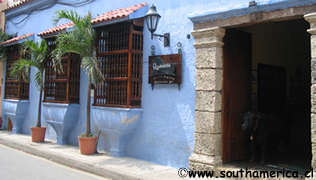 There are numerous quality restaurants within the walls of the old city offering a mix of dining experience from quintessential South America restaurants, quirky decorated restaurants to modern find dining establishments. Typically located around the plazas, they serve up a range of local and international dishes.
If like most backpackers you love nothing better than paying no more than about $3 for a meal then eating within the old city is not an option!
There are three solid cheapies along Calle San Andres that offer typical Colombian food just like other cheap restaurants. In Central and South America breakfast includes eggs with a bit of bread, rice and beans, lunch and dinner offer soup with a main dish typically chicken (pollo) or fish (pescado) and a juice. (Anything professing to be steak at one of these restaurants I would not touch, as usually it resembles a piece of dry leather).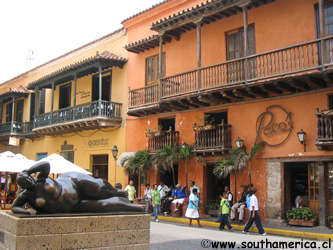 I Preferred eating at one of the two 'restaurants' close to Hostel Casa Viena with a tendency for the one directly opposite it. They were cheaper and just as good as restaurant Coroncora that is further down the road, however this restaurant does have a better selection of dishes to choose from, if you are a fussy eater.
There is also Paco's which is located just across the street from Iglesia Santo Domingo; they serve up traditional Colombian food.
Cartagena lacks the street food vendors typical of other South American cities.
Getting there and away
Buses
The bus station for Cartagena is located some distance from the old town and the bus there takes a while so do not get worried if you are on the bus for 45 minutes. Go to the corner of Calle de la Media Luna and Las Maurallas; from here you will have to ask people or the guy hanging off the side of the bus for which bus to take.
Buses from Cartagena to Santa Marta stop in Barranquilla and most people unfortunately have to change buses in Barranquilla, (even if you were promised in Cartagena the bus was direct to Santa Marta).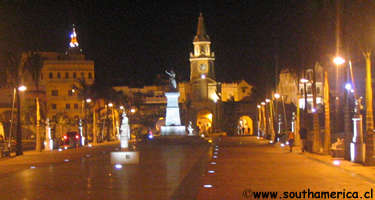 Air Travel
DOMESTIC
Avianca Colombia's main airline carrier regularly offers flights to Bogotá for USD $85. Travel agencies will be able to book flights for you with Avianca, however, I would suggest taking a bus from Monument to the India Catalina to the airport where their office is located for a better deal. (phone: (57) 5 6661175, (57) 5 660134)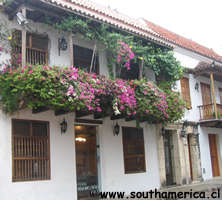 INTERNATIONAL
If flying in from Panama you might find that airlines request you have an on going ticket out of Colombia to fly as it is necessary for immigration. This is a bit ridiculous, though it is officially required, Colombian immigration does not ask to see the on going ticket when entering if applying for a tourist visa. You may get the same situation if flying out of Colombia to Panama so check with your airline as their have been cases of airlines not allowing people to board planes because they do not have an on going ticket. This is an airline policy and has nothing to do with Colombian or Panama immigration.
Boats Colombia to Panama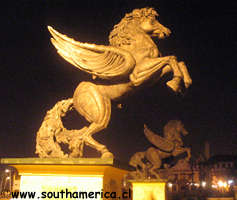 There are charter boats that frequent this route and for the price of $275 (2011) you get food, water, and a 4-6 day cruise to Panama including 2 days in the San Blas Archipelago or vice versa. Beware that you check your captain and the quality of the boat out beforehand. Whatever you do, do not hand over any money in the beginning, as then you no longer have bargain power if things start going not to plan. It is advised that a better time of year for sailing is during Nov - April but the seas can be rough at anytime of the year. And whatever you do, do NOT board a boat named "Marie Jo"!! (Personal Experience)
If you found this guide about Cartagena, Colombia interesting or useful, let others know about it: