Barranquilla
Colombia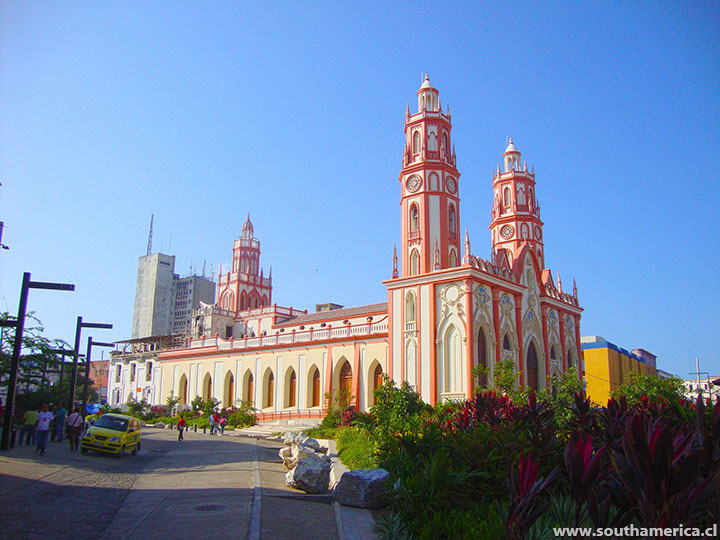 Barranquilla is a port city located in the Atlantico department on the northern coast of Colombia.
Best time to visit Barranquilla
One of, if not the, most renowned feature of Barranquilla is the spectacular carnival – second only to Rio de Janeiro in terms of size in the world. The event is held 40 days before Easter when for four days the city is overcome by revellers who flock to witness the non-stop festivities including parades, concerts and dance performances. Dating back to the 19th century, Barranquilla's carnival has roots in the Spanish Catholic tradition but has incorporated aspects of African and indigenous culture, epitomizing the ethnic fusion that characterizes Colombia's Caribbean coast. The traditional flower parade has been one of its centrepiece events since 1903 and its procession of flower-adorned floats, bands, dance troops and costumed groups is a crowd puller.
Meanwhile Barranquilla also hosts an annual international arts festival, where creative minds from a variety of artistic professions descend upon the city to showcase their talents, allowing audiences a glimpse into what makes them tick. This four-day carnival usually takes place at the end of January.
What to see and do in Barranquilla
During the day Barranquilla has plenty of places to visit. Museo de Arte Moderno (Modern Art Museum), built in 1996 and located in the Bella Vista area, comprises of permanent and temporary exhibitions celebrating the work of various famous artists.
While for all those Gabriel García Márquez fans the Museo del Caribe (Caribbean Museum) has in its mist a hall dedicated to the Nobel Prize winning author. Visitors are given a taster of what the famed Colombian thought, felt and imagined throughout his years as a journalist thanks to the recreation of his work space or 'lyrical' universe. Márquez also has on exhibition the typewriter he used to write his novel 'leaf storm' at the Museo Romantico (Romantic Museum), also located in Bella Vista.
The city has its own small zoo which is home to more than 140 different species of animal, including many from the Caribbean area. With entrance at 11,000 pesos for adults and children (prices as of 2013) Zoológico de Barranquilla offers an inexpensive way to spend an afternoon while learning about the endangered animals from the knowledgeable guides.
Barranquilla also has a plethora of delightful parks in which to relax. Parque Cultural del Caribe (Park of the Caribbean) is the most famous and is dedicated to displaying the heritage of the city while also hosting performances at its outside theatre. Elsewhere Parque Metropolitano, situated next to the multi-use Roberto Meléndez stadium, is an interesting place to visit if nothing else but for the giant statue of one of Barranquilla's heralded daughters Shakira.
Nightlife in Barranquilla
While during the day tourists and locals alike can enjoy the many beaches, parks and museums on offer it is at night when the city really comes alive. Barranquilla is famed for its energetic nightlife especially from Thursday through Sunday. For first-time visitors it is advisable to stick to the safer north side of the city when hitting the nightlife. Here Agua Helada is a hugely popular destination for anyone who has more flexibility on his/her budget. Located near Centro Comercial Gran Boulevard, this trendy night club offers mainly a mix of salsa and reggaeton music and is 20,000 pesos to enter on its busiest night, Saturday.
Close to Agua Helada is located a more relaxed bar called Coco Beach Sunset Bar which offers a unique atmosphere of being on the beach while actually in the city. Surrounded with palm trees and wooden decking this bar oozes relaxation and is a perfect place to go for a conversation and to meet other people.
Meanwhile if it is traditional salsa you are looking for La Troja - located on Carrera 44 and Calle 74 – is the place to be. La Troja is indicative of Barranquilla with a tropical, fun atmosphere infecting its clienteles. With no cover charge required, cheap beer prices (around 3,000) this is a great economical option for a night out.
Places to visit near Barranquilla
In between Barranquilla and Cartagena is situated a small volcano in which you can bath in its muddy crater. The Volcan de Totumo is 49-feet tall and is bursting with cool mud. Visitors come from far and wide to take advantage of this unique opportunity of swimming in a pool of volcano mud, gazing into the sky and even getting a massage in the process. Afterwards you are encouraged to wash off in a nearby river or allow a local to do it for you, with the presumption of a tip afterwards.
Weather in Barranquilla
Thanks to its tropical climate Barranquilla is hot throughout the year and has a daytime temperature of about 32 °C (90 °F) while rainy seasons are from April to June and August to November.
Getting around in Barranquilla
City bus routes are easy to understand and the modern mass-transit system, 'metroplus', is a popular way to navigate your way around. Although this service is normally reliable there have been incidents of disruptions on some routes in the past due to employee strikes, so it is always advisable to check ahead.
Getting to and from Barranquilla
Getting to Barranquilla is fairly straight forward if you are travelling by air as the international airport, Ernesto Cortissoz, is a 10-minute drive from the city in the municipality of Soledad. It is quick, easy and inexpensive to get a taxi from the city to the airport while using taxis in the city is the most common mode of transport and should not cost you more than 10,000 pesos for any journey (2014). Meanwhile the bus terminal is to the south of Barranquilla.
Safety in Barranquilla
Barranquilla is a relatively safe city but it is advised that visitors stay in more developed areas such as El Prado during their stay. Although crime is less here than in other areas such as Medellin or Cali it is important to use cameras and phones with discretion when out and about.
If you found this guide about Barranquilla in Colombia interesting or useful, let others know about it: