Popayán
Colombia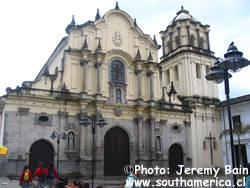 Popayán, one of Colombia's top colonial cities, is nestled in the Andes Mountains half way between Bogotá in Colombia and Quito in Ecuador.
Founded in 1537, its mild climate attracted wealthy Spanish settlers from the hot productive sugar region of Cali. The town quickly became an important political, cultural and religious center of the time. Popayan was an obligatory stop for travelers going from Quito to Cartagena, little has changed with many backpackers using Popayan as a quiet rest stop on the long travel south through the mountainous region, before heading across the boarder or after crossing the boarder. Popayan is a relaxed, safe, and an inexpensive town with not much going on. It is a great place to rest for a day while still having enough to keep you occupied for a relaxed day wondering around the colonial style streets of whitewashed colonial mansion architecture, buildings, museums, churches and bridges.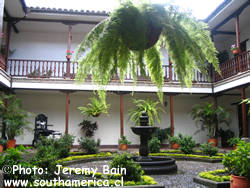 Do not be afraid to sneak a look at the courtyards inside the colonial buildings. All this can be tiring so take a break at one of the cafes and enjoy a coffee or hot chocolate or take advantage of the cheap internet access on offer around the town.
Traveller's tip: You may encounter problems with bank machines not accepting foreign Debit or Visa cards. If relying on Debit or Visa cards for cash and visiting Popayan and San Agustín together it may be worth making sure you have enough money to get to a bigger town as San Agustin does not have a bank machine to withdrawal cash.
Where to Stay
HostelTrail Guesthouse
Carrera 11, No. 4-16, Popayan
Excellent location in the heart of the city this hostel is already well recommended despite being relatively new. They have free luggage storage for those visiting the archaeological sites.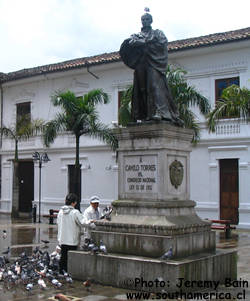 Casa Familiar is a cheap option, basic but clean and has hot showers (the big dog is as harmful as a fly). The best thing about this place is the message board that offers a wealth of information about where to eat in town and about recent goings on in San Agustin, also on the notice board is information about a great day trip to a local hot spring.
Casa Familiar El Descanso offers more comfortable beds and slightly better bathroom facilities for an additional buck or two.
Both are located on the same block on Carrera 5.
La Casona del Virrey is set in a Colonial style building and has a little more character than the other two cheapie options and is located right on the corner of the main square. It offers rooms with private bathrooms.
There are plenty of slightly more expensive places for about USD$15 if you are not on the tight travel budget or feel like a little more comfort.
Where to Eat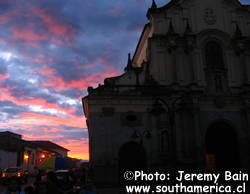 The coffee shop on the south corner of Calle 3 and Carrera 4 is a bit more expensive but the drinks are of a higher quality than a couple of the other coffee shops sampled.
Restaurante Vegetariano Delicias Naturales (located on Calle 6 between Carrera 9 and 8) served up a fantastic lunch which includes soup, a main dish, a dessert and a natural fruit juice, even if it was vegetarian and ridiculously cheap.
A great place for pub food (forget the name) is on Calle 3 near Carrera 3 with assorted rock and cartoon posters covering the walls and old wooden chairs and tables; it has an eclectic feel to it. They will serve you massive pizzas or burgers and sandwiches for a good price, the freshly squeezed lemonade is well worth a try as well.
Getting there and away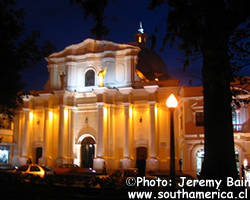 There are small buses that run direct to San Agustín leaving Popayan in the morning, the trip will take about 6-7 hrs. The road is a little worse for wear but the view out of the window at the wonderful cordillera cloud forest hills make up for it. You can also get a bus going to Pitalito, but it will drop you off about 6km out from San Agustin, from here you can get any of the collectivos (shared taxis) driving past (they come by about one every 10-15 mins) to complete the journey, do not pay for the collectivo in advance. You will pay twice the price of what it actually costs. In the past, the road was controlled by guerrilla soldiers. They had their own checkpoints reviewing tourist passports and deciding who may pass. Unfortunately for the more adventurous, this time has past and the road is very safe with military presence along the way. The bus will make a food stop at a place in the middle of nowhere. The steak here actually resembles something like steak and is incredibly cheap; a great little find.
There are regular services to Cali, Bogotá and Pasto. Depending on whether you are heading north or south, both routes offer great views out of the window of this mountainous region. Night trips are more likely to run on time as the buses can pass slower trucks on blind corners as they rely on the fact that they will see the lights of any on coming traffic defiantly do not sit at the front if you get scared easily.
If you found this guide about Popayán, Colombia interesting or useful, let others know about it: